We're Seeing Quadruple! Everyone's Favorite Actor, Dwayne Johnson, Honored with Four New Wax Figures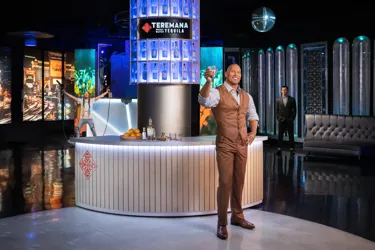 Global entertainment, fitness and entrepreneurial icon Dwayne Johnson revealed his four new wax figures at Madame Tussauds New York, Hollywood, Las Vegas, and Orlando - dominating the screen, the ring, and now the wax figure game! One of the world's most successful male actors and producers, Johnson starred in a number of record-breaking box office smash hits, including Jumanji: Welcome to the Jungle and Jumanji: The Next Level, Hobbs & Shaw, Jungle Cruise, Rampage, Skyscraper, Red Notice, Disney's Moana and many more. Also widely regarded as one of the greatest professional wrestlers of all time, Johnson first rose to fame reaching global recognition as WWE's 'The Rock' before transitioning to the big screen. Dwayne Johnson revealed his figures with a video on Instagram giving an exclusive glimpse of the incredible immortalizations of himself up close, styled and themed to align with the spirit of the city in which it's located.
Madame Tussauds extensive creative team of sculptors, colorists, hairdressers, and stylists contributed to all four of Johnson's figures, representing the celebrity in diverse and prominent poses that capture his recent success. Each figure also offers a unique interactive guest experience.
The Vegas figure welcomes fans with a 'cheers' as they raise a glass at a Teremana Tequila themed bar, Johnson's record-breaking Tequila brand, bringing the Mana exclusively to the Las Vegas attraction. Johnson's figure in the entertainment capital of the world is posing in attire recreated from his Voss Water campaign in 2019. 
Dwayne Johnson headed to Instagram to say, "The only way I can describe this…So f'in cool."
Check out the video below to see all of The Rock's new figures at FOUR Madame Tussauds locations!