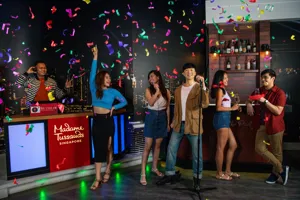 Party it up!
Walk the red carpet, strike a pose for the paparazzi, and join the party to end all parties! Mingle with your favourite A-List celebrities, rub shoulders with the stars and cosy up to Hollywood's hottest hunks.
Join the party today!
Michelle Yeoh
"Beauty shouldn't be superficial and should come from within, and your eyes will tell the story."
Madame Tussauds, A-list
Leonardo Dicarprio
"Don't think for a moment I'm really like any of the characters I've played. I'm not. That's why it's called acting!"
Madame Tussauds, A-list
Johnny Depp
"Laugh as much as you breathe and love as long as you live."
Madame Tussauds, A-list
Nicole Kidman
"I believe that as much as you take, you have to give back. It's important not to focus on yourself too much."
Madame Tussauds, A-list
Priyanka Chopra
"You fall, get up, make mistakes, learn from them, be human and be you."
Madame Tussauds, A-list