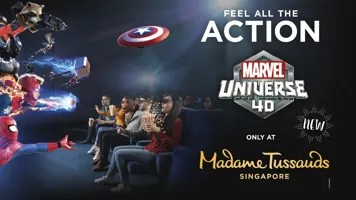 NEW: Marvel Universe 4D
Get ready for an unparalleled cinematic adventure with Madame Tussauds Singapore's new Marvel Universe 4D movie! Join Captain Marvel, Thor, Black Panther, Rocket, Spider-Man, Ant-Man, and the Wasp as they battle the notorious Loki and save the world. Experience wind-chilling, water-soaking, and face-flinching special effects which will transport you into the heart of the action like never before!
Loki
"You have no idea what I'm capable of!"
Madame Tussauds, Marvel Universe 4D
Iron Man
"I love you 3000."
Madame Tussauds, Marvel Universe 4D
Spider-Man
"No Man Can Win Every Battle, But No Man Should Fall Without A Struggle."
Madame Tussauds, Marvel Universe 4D