SPIDER-MAN DAY
No such things as too many Spideys! With Spider-War coming, Madame Tussauds Singapore invites you, your friends and family to join us in saving the world on Friday, 2 June 2023. 

All participants dressed in full* Spider-Man outfit will receive FREE entry into the attraction. Register below to participate! Scroll down for more information and FAQ on the event.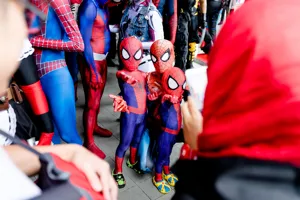 EVENT DETAILS
Who: You, your friends and family - Everyone is welcome to join in on the fun!
What: Dress up as Spider-Man from head to toe - Click here to see how to dress and meet the criteria for the day.
When: 10AM-1PM on Friday, 2rd June 2023
RSVP: Fill out the form below to participate!
FREQUENTLY ASKED QUESTIONS
To qualify for free entry on the day you need to be fully dressed in a Spider-Man outfit! Free entry is from 10AM-1PM, limited to the first 100 pax. 
Please note that the form is to register your interest in participating in our Spider-Man Day and does not guarantee you a free entry on that day itself. Free entry and 50% off entry is only applicable to the first 100 pax that turns up at the attraction on Friday, 2 June 23 between 10AM-1PM.
You will be entitled to our Standard ticket with access to Marvel Universe 4D and a Digital Photo Souvenir. 
To enjoy FREE entry into Madame Tussauds Singapore, you will be required to be dressed as Spider-Man from head to toe! Sample image reference as shown below: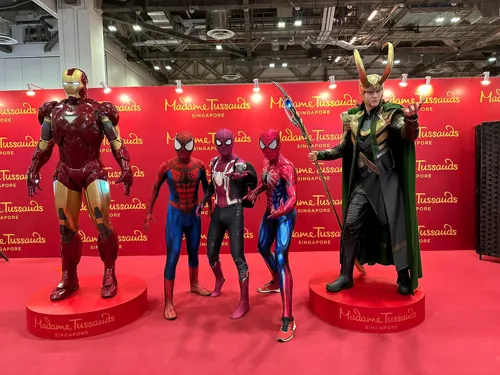 A full head to toe Spiderman outfit
*Onesie is accepted too
You will still be able to enjoy 50% off entry into the attraction! (U.P $46.50/Adult, $34/Child)

*Apparel or accessories simply carrying the Marvel logo will not be accepted
Yes! Parents and/or adults accompanying their child/partner who has dressed up as Spider-Man into the attraction will also be able to enjoy 50% off our entry fees.
If there's something we've missed or anything you'd like to clarify, please send us a message on our Madame Tussauds Singapore socials @mtssingapore on Instagram or @MadameTussaudsSingapore on Facebook.