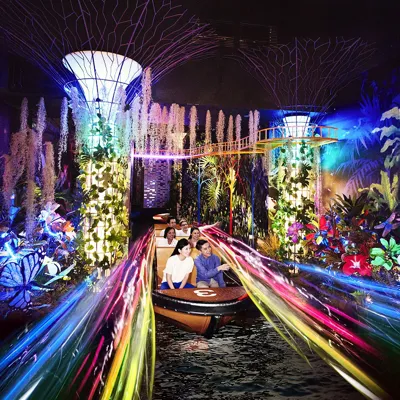 The only boat ride in Madame Tussauds
Hop aboard the 'Spirit of Singapore', the first ever Madame Tussauds boat ride, and travel through our fantasy, tropical Singaporean garden. Watch Singapore's native plants come to life, as the scent of lilies, jasmine and giant palms wafts through the air. Listen to the calming bird song as the boat ride comes alive with spectacular colour. From the tranquillity of the tropical jungle, we'll whisk you straight into the incredible F1 Singapore night race, surrounded by the noise of grand prix cars speeding by. The lingering smell of burning rubber will draw you towards the Singapore flyer. just as a thunderous roar overhead shows a Singapore Airlines A380 aircraft, on its way to Changi International airport.
Please note that the Spirit of Singapore boat ride will not be operating due to maintenance on weekdays in April and May 2021.