Valentine's Day dinner with Ryan Gosling? Yes please!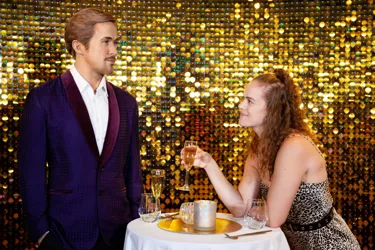 Single because of the pandemic? Don't want to spend another Valentine's Day writing letters to past loves and secretly hoping for a Peter Kavinsky-type to knock on your door with a dozen roses and an antique heart necklace?
Stop daydreaming of a soulmate and manifest them to life by swiping right on the perfect date with Ryan Gosling (or Taylor Swift or Miranda Kerr or Prince Harry)!
We are hoping to inject romance back into the life of one love-deprived Sydneysider by giving away a candle-lit dining experience with a celebrity (wax figure) of their choosing.
THE PRIZE
The lucky love-seeker will receive an entirely private afterhours self-guided tour- aside from staff, they will be the only guest on site! 
As they enter the Party Zone, they will find their celebrity date patiently waiting by an intimate table. Sitting by a bewitching backdrop of the zone's newly installed glitter wall, there'll be lasting moments of magnetic eye contact, blushing through sips of wine and laughter between bites of a two-course dinner.
Just in case Ryan Gosling isn't that much of a conversationalist, the lucky diner will be invited to bring along a wing woman or wing man to share the once-in-a-lifetime treat.
HOW TO ENTER? 
In the form below, tell us in 25 words or less which celebrity wax figure out of Ryan Gosling, Taylor Swift, Miranda Kerr and Prince Harry is your dream date and why.
COMPETITION DETAILS
Please read all terms & conditions before entering
Entries will be accepted from Monday February 1 2021 9am
Entries close Wednesday February 10 2021 11:59pm
The winner will be contacted on Thursday February 11 2021
The prize may be redeemed on Valentine's Day (14 February 2021) or another date between Wednesday 10 February 2021 and Wednesday 3 March 2021. Sundays outside of Valentine's Day are excluded from the prize and date booked will be pending availability
A night to remember!