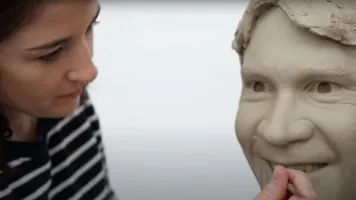 Behind the Scenes at Madame Tussauds Sydney
Making wax figures is a labour of love. Over 800 hours of painstaking moulding, measuring, painting and sculpting goes into making each figure.
Our Artists
We have a small army of highly trained wax sculptors who can replicate a Hollywood A-Lister or world leader so exactly that you'll believe that you are face to face with a real person. You'll find yourself saying sorry to someone for nearly bumping into them, before realising it's a wax figure of Penelope Cruz or Johnny Depp. That's the skill of our sculptors. The big question though, is how do they do it?
The Process
Firstly, the subject is invited in for a sitting where detailed measurements and photos are taken. If the personality is unable to come in person, or is a historical figure like Albert Einstein, the sculptor has to work from existing photos. It's a precise job - more than 250 precise measurements and photos are needed before work on the figure can begin. On this page you'll follow Shah Rukh Khan, Bollywood superstar, from sitting to finished figure.
The sculptors use the measurements and photos to make a clay model of the head. Next they make a metal skeleton of the body to which they add clay in the shape of the body. Because wax shrinks, all figures are made 2% larger than the actual celebrities they are portraying. Moulds are then made of the head and body – the head and body are made separately. A hot wax mixture is poured into the moulds then left to cool and harden
Once the wax is ready, it's time for hair and make-up. There is no quick way of fixing hair onto a wax figure - each strand has to be inserted individually and the job usually takes around five weeks. Next, teeth and eyes are added before the figure is coloured using oil based paint. The paint has to be applied in layers to create a realistic skin colour and texture
Finally, hundreds of hours after the initial sitting, its show time for the finished figure here at Madame Tussauds.
And before you ask, all celebrities' vital statistics are kept secret! We are inundated with requests from the public and the media but we haven't leaked any yet. Our lips are sealed.
See Our Figures for Yourself!
Book your tickets to Madame Tussauds Sydney online and SAVE UP TO 20% on general admission! 
Book Now