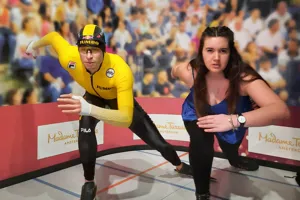 Famous Facts
Sven Kramer was almost born wearing skates. But success does not come his way. After hard work, he drags in his first European and WORLD title in 2007. That is only the beginning!
He won his first OLYMPIC GOLD in 2010, in the 5 km in Vancouver. At the 10 km, he tries again. But then his coach accidentally directs him to the wrong track. Grrr...
Fortunately, it keeps raining victories, because Sven cannot stand losing, he says himself. He also balks immensely when he grabs next to Olympic gold in the 10 km in Korea in 2018. But in the 5 km, he is UNBEATABLE!
Book now!