Benazir Bhutto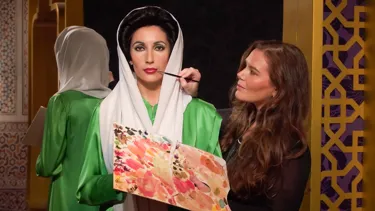 Benazir Bhutto was the first female Prime Minister of the Muslim World
Dubai, United Arab Emirates, (30th July 2023):  The wax figure of Former Prime Minister of Pakistan Benazir Bhutto was revealed at an official event held at Madame Tussauds Dubai today. Bilawal Bhutto Zardari, Foreign Minister of Pakistan graced the occasion. Faisal Niaz Tirmizi, Ambassador of Pakistan to UAE, senior officials of the Embassy & Consulate General of Pakistan and prominent community members were also present.
In his remarks on the occasion, the Foreign Minister Bilawal Bhutto Zardari highlighted that the wax figure was a befitting tribute to Mohtarma Benazir Bhutto. He added that her legacy- being the first female Prime Minister from the Muslim World -continued to inspire the young generation - women in particular. He further remarked that the former Prime Minister of Pakistan was consistent and passionate in advocating peace, stability, and cooperation amongst nations at international fora.
Late Mohtarma Benazir Bhutto's figure wears the same outfit as when she was sworn in as Prime Minister of Pakistan. The likeness of Former Prime Minister Benazir Bhutto was sculpted from a sitting in 1989 using the traditional artist techniques. A 'sitting', that is a meeting between the celebrity and the artists at Madame Tussauds, where over 200 measurements are taken, being the normal, detailed process needed to create one of the amazing wax figures. The figure was first displayed in Madame Tussauds London
Former Prime Minister Benazir Bhutto was a Pakistani politician and stateswoman who served as the 11th and 13th prime minister of Pakistan from 1988 to 1990 and again from 1993 to 1996. She was the first female leader of any Islamic state in modern history and was the daughter of Zulfikar Ali Bhutto, Prime Minister of Pakistan 1971–1977.
On the occasion, Ambassador Faisal Niaz Tirmizi said, "The work of Madame Tussauds allows us to celebrate the achievements and contributions of remarkable individuals who have inspired generations all over the world. I am glad that Pakistani citizens living in the UAE will now be able to visit the likeness of Former Prime Minister Benazir Bhutto at Madame Tussauds Dubai and learn about her accomplishments."
Sanaz Kollsrud, General Manager of Madame Tussauds Dubai said, "We are honoured that Foreign Minister Bilawal Bhutto Zardari was able to attend the figure reveal. We are pleased and humbled to include Former Prime Minister Benazir Bhutto to the line-up of respected figures at Madame Tussauds Dubai and share her figure with our Pakistani guests".
The figure will be placed in the first zone of Madame Tussauds Dubai, being the Leaders and Royals Zone alongside wax figures of Royals & Leaders of the world, inside the attraction located on Bluewaters.
Follow Madame Tussauds Dubai on social media to keep up to date with the latest news:
Instagram @tussaudsdubai
TikTok @tussaudsdubai
Twitter @Tussauds_Dubai
Facebook Madame Tussauds Dubai
Notes:
Opening hours:
Sunday – Thursday 12pm – 8pm (last entry 7:45pm)
Friday, Saturday & Public Holidays 11am - 9pm (last entry 8:45pm)
Ramadan hours: 3pm to 10pm daily
Standard Admission Ticket prices:
Adults (11+) AED145
Children (3-11) AED120
Under 3s- free of charge
Exclusive Fame Experience Ticket prices:
VIP Tour Adults (11+) AED305
VIP Tour Children (3-11) AED240
For press enquiries contact:
Samantha Joffe, Marketing Manager
Samantha.joffe@merlinentertainments.biz
+971 58 546 9020
Madame Tussauds Dubai
About Madame Tussauds:
Madame Tussauds has been inviting people to walk the red carpet and get closer to the revered – and feared – for over 250 years. With over 24 attractions in the world's top destination cities, Madame Tussauds is dedicated to giving millions of visitors the opportunity to mingle with the mighty from A-listers to music legends, heroes of sport, to infamous world leaders. Today, the attraction continues to partner with the global icons of a generation to create astonishing lifelike figures from sittings and offer exciting and interactive experiences to ensure guests have never felt closer to fame. The GCC's new attraction in Dubai is location on Bluewaters, Dubai's latest vibrant lifestyle destination, and features 60 wax-figures with 16 being notable celebrities from the region.
See https://www.madametussauds.com/dubai/ for more information and follow Madame Tussauds on Instagram @tussaudsdubai
TikTok @tussaudsdubai
Twitter @Tussauds_Dubai
Facebook Madame Tussauds Dubai
About Merlin Entertainments Limited:
Merlin Entertainments is a global leader in location-based, family entertainment. As Europe's number one and the world's second-largest visitor attraction operator, Merlin operates more than 140 attractions, 24 hotels and six holiday villages in 24 countries and across four continents. Merlin's purpose is to deliver memorable experiences to its millions of guests around the world, through its iconic brands and multiple attraction formats, and the commitment and passion of its employees.
See www.merlinentertainments.biz for more information and follow on Twitter @MerlinEntsNews.
About Bluewaters:
Bluewaters blends residential, retail, hospitality, leisure and entertainment experiences. The idyllic waterfront destination enjoys multi-mode transport options that offer tourists and residents the opportunity to reach the island by land or sea, with basement parking providing ample space. It is connected to the bustling mainland via a direct road to Sheikh Zayed Road and a 265-metre pedestrian bridge links the island to The Beach opposite JBR.