British Singer-Songwriter Ed Sheeran Arrives at Madame Tussauds Hong Kong Just in Time for Christmas
Tuesday 20th December 2022
Madame Tussauds Hong Kong
What's New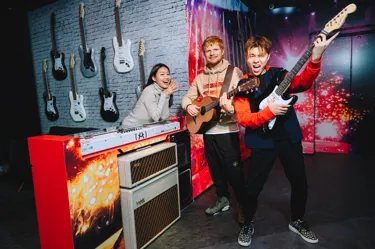 In early November, the internationally renowned British singer Ed Sheeran announced that he is taking a well-deserved break and will be back in 2023 to meet his fans. Now, Hong Kong fans can meet Sheeran at Madame Tussauds Hong Kong. His wax figure, complete with his iconic ginger hair, will join other stars in the "Music Icon" zone. Come and spend your Christmas with Ed Sheeran and sing along to his worldwide hits in the last decade.
The wax figure at Madame Tussauds Hong Kong will feature his well-recognisable stage persona and resonate with the fans looking for a concert-like Sheeran. Visitors will find Sheeran in his iconic pose, dressed in a hoodie, black pants, and sneakers, with his guitar from stage concerts worldwide. The hoodie will feature artwork from his 2021 hit album "=" and the subtle and low-profile look will bound to resonate with his loyal fans. The backdrop will be lit with stage lights and fireworks to immerse fans in a real-world mega-concert experience with Ed Sheeran. Visitors are also welcome to share the stage with Ed Sheeran to create memorable tunes with the electric keyboard while enjoying the magic of his charismatic performance and presence.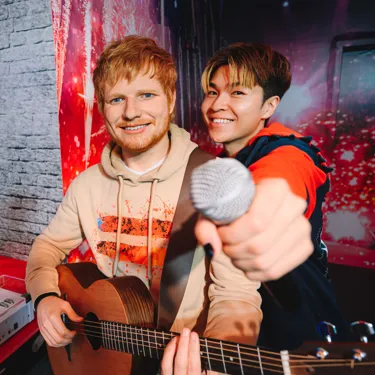 "We are excited to have Ed Sheeran join the fabled line-up at Madame Tussauds Hong Kong. We look forward to having visitors get close and experience the aura and charm of this young and powerful musician. We have also placed musical instruments on site, especially the electric keyboard. So, everyone can enjoy a musical journey with Ed Sheeran this holiday season and take stunning photos," said Mr Eric Mak, General Manager of Hong Kong Cluster.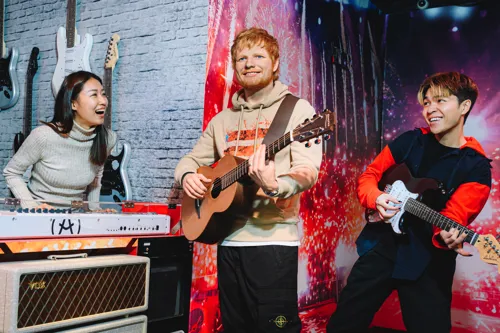 Launched in late 2021, Ed Sheeran's duet with Elton John, "Merry Christmas," was a global hit last holiday season. As Ed Sheeran lands in Hong Kong to get up close and personal with his fans, it's time to sing the song and take selfies with him at Madame Tussauds Hong Kong. Don't forget to tag him (@teddysphotos) and Madame Tussauds Hong Kong (@madametussaudshongkong) on Instagram and prepare to meet him again with his new album that will be out really soon in 2023.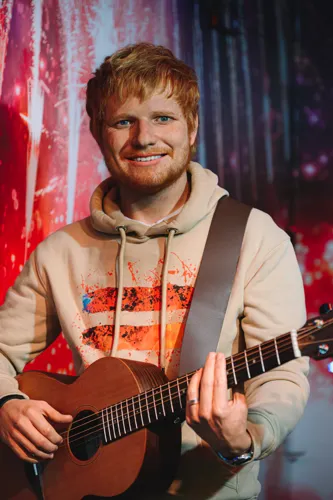 Celebrate your birthday party at Madame Tussauds with the stars
Madame Tussauds Hong Kong is also launching a Birthday Offer in 2023. Hong Kong residents will enjoy a free one-time entry to Madame Tussauds Hong Kong up to seven days before or after their birthday. They can enter with at least one accompanying guest who purchases the Standard Package (including ONE entry ticket, ONE VIP digi photo pass and ONE guidebook). So, make 2023 the year to enjoy a star-studded birthday party!
Madame Tussauds Hong Kong's Birthday Offer Terms and Conditions:
The promotion period starts on 1 January 2023 and ends on 31 December 2023.
The birthday promotion is only applicable for one guest up to seven days before or after his or her birthday.
The discount only applies to valid Hong Kong ID Card holders. Photocopies will not be accepted.
Promotional offers cannot be sold or redeemed for cash and other products. The offer cannot be used in conjunction with any other promotional offers.
Promotional offers must be used at the main entrance of Madame Tussauds Hong Kong.
Admission tickets are subject to the terms and conditions of Madame Tussauds Hong Kong.
Terms and conditions of Madame Tussauds Hong Kong are subject to change without further notice.