MADAME TUSSAUDS HONG KONG UNVEILS JJ LIN WAX FIGURE
Tuesday 6th July 2021
Madame Tussauds Hong Kong
New Wax Figure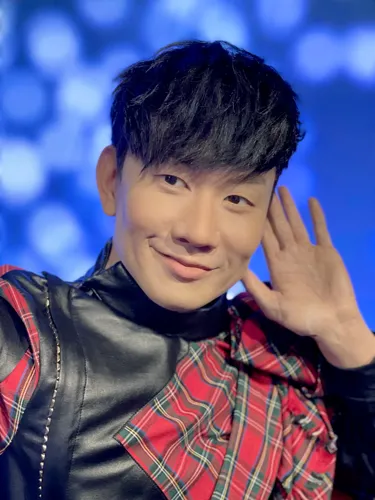 (Hong Kong, 6 July 2021) Multi-talented Mandopop superstar, JJ Lin, is the first ever Asian artiste to be honoured with his very own Madame Tussauds touring wax figure. Following the success of his permanent wax figures in Singapore and Chongqing, Madame Tussauds collaborates with JJ once again, featuring his new wax figure dressed in his Sanctuary World Tour outfit. The wax figure makes its debut in Hong Kong, before embarking on Asia tour to all Madame Tussauds attractions.
This latest collaboration between Madame Tussauds Hong Kong and JJ Lin's Sanctuary World Tour is set to inject new energy into the attraction. Ms BoBo Yu, head of Marketing of Madame Tussauds Hong Kong, "Due to the pandemic, JJ hasn't been able to fly and appear for events in person. But we know that fans have been hoping to see him for a really long time now, so we hope that this new wax figure will be the next closest thing that fans can look forward to. After the Hong Kong stop, the next stops will be in other attractions in Asia. JJ is definitely our Asian pride and choice!"
First ever virtual unveiling of wax figure
JJ's Sanctuary World Tour which commenced in 2018, will conclude in the highly anticipated Sanctuary Finale online concert that will be globally broadcast this coming Saturday, 10 July. Last night (5 July), the award-winning singer-songwriter and producer took to his Instagram Live to meet with fans, and to do a live demonstration on how to better enjoy their concert experience this Saturday with its eponymous interactive wristband. In a surprising twist, Madame Tussauds Hong Kong joined in the live session, and both parties virtually unveiled JJ's wax figure (wearing the Sanctuary Finale concert wristband as well), with JJ excitedly quipping, "This is too real!"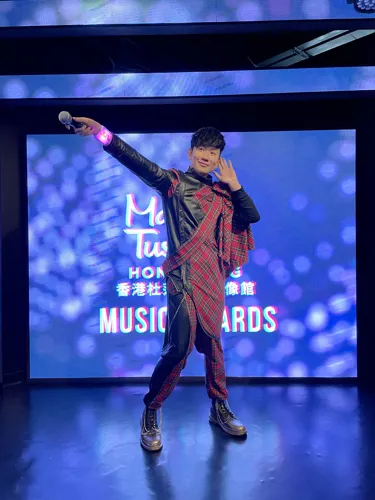 The playful singer reminded fans not to touch his fringe when they do visit and take photos with his wax figure. The session also saw wax figures of JJ's close friends, Jay Chou and Jackson Wang, sporting the same interactive luminous wristbands for the concert. With all their wristbands in hand, JJ proceeded to perform a few of his hit songs to test its interactivity. Of the wax figure, JJ enthused, "I'm very excited for fans to meet my doppelganger. This is yet another beautiful memory added to Sanctuary World Tour". Before the Instagram Live session ended, JJ also added, "This is the first time, and likely the only time you'll get a chance to take a selfie with me in my concert outfit".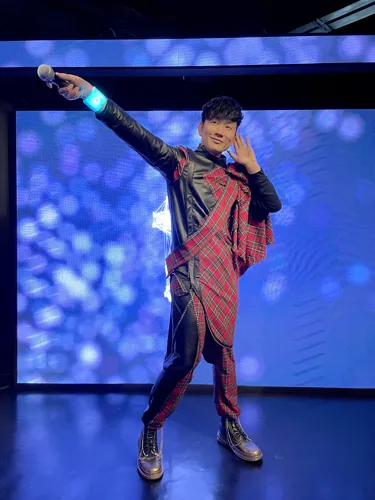 Limited time special for Sanctuary people
From now till 31 Aug, fans and Sanctuary people are entitled to a special discounted package to Madame Tussauds Hong Kong at just HKD178. Simply purchase the tickets from Madame Tussauds Hong Kong official website with the promo code "JJLINSANCTUARY" and get to take as many selfies as you wish with JJ's wax figure! The package includes a Madame Tussauds Hong Kong Ticket and a *VIP Digi Photo Pass (original price HKD299). For those who might not be able to make it down in time, you can still plan your holiday for the months ahead as packages purchased during this promotional period are valid until 31 Dec 2021.
*VIP Digi Photo Pass is a digital photo souvenir for a photo taken in the attraction.
 - End -
About Madame Tussauds Hong Kong
Madame Tussauds Hong Kong is a unique celebrity-inspired attraction that connects guests with famous people, famous events and famous times. Featuring 12 themed areas, Madame Tussauds Hong Kong provides visitors with the opportunity to meet their idols and do the things that famous people do!
The attraction features over 100 local and international celebrity wax figures with exciting audio-visual effects and interactive experiences to create truly magical moments for all guests.
Originally opened in August 2000, Madame Tussauds Hong Kong is the first permanent Madame Tussauds in Asia. There are 23 Madame Tussauds around the world: Hong Kong, London, New York, Las Vegas, Amsterdam, Shanghai, Washington D.C., Berlin, Hollywood, Bangkok, Vienna, Blackpool, Sydney, Tokyo, Beijing, Wuhan, San Francisco, Nashville, Singapore, Orlando, Istanbul, Chongqing and Delhi.
Madame Tussauds Hong Kong welcomes guests from 11am to 8pm daily (last admission is at 7:30pm). For ticket enquiries, please call (852) 2849 6966 or visit https://www.madametussauds.com/hong-kong/en/.