Lee Chong Wei's Wax Figure To Be on Permanent Display in Madame Tussauds Hong Kong
Friday 3rd March 2023
Madame Tussauds Hong Kong
What's New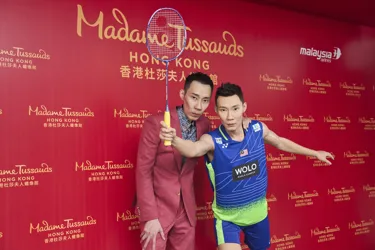 The specially-commissioned wax figure of former world no.1 badminton player, Lee Chong Wei, will make its way to Madame Tussauds Hong Kong where it will be on display permanently from 18 March 2023.
Being the first Malaysian athlete to grace the halls of Madame Tussauds, Lee Chong Wei's wax figure will be featured in The Champions zone, joining other sports icons such as the renowned football players Cristiano Ronaldo and David Beckham; legendary basketball star, Yao Ming; as well as iconic professional boxer Manny Pacquiao, who is also the latest addition to the zone.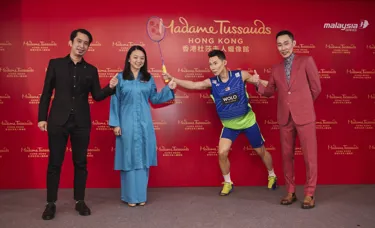 Before the wax figure journeys to Hong Kong, Madame Tussauds held a special showcase in Kuala Lumpur where it was unveiled by the Minister of Youth and Sports Yang Berhormat Hannah Yeoh alongside the man himself, Lee Chong Wei.
Speaking at the event, Yang Berhormat Hannah Yeoh said, "I'm delighted that Madame Tussauds Hong Kong has commissioned a wax figure of Lee Chong Wei, our nation's pride. We are truly so proud of our national sports hero and congratulate Lee Chong Wei on attaining this global recognition. The Ministry of Youth and Sports is committed to unleashing our country's sports potential, and I hope Chong Wei's achievements serve as a reminder and motivation for them to strive for excellence."
Eric Mak, General Manager at Madame Tussauds, Hong Kong Cluster, also shared his excitement, "It is one of the great milestones we've achieved to house Lee Chong Wei's wax figure here – a significant addition to The Champions zone, which sets to inspire young generations to pursue their dreams regardless the tough hurdles they must overcome. Lee Chong Wei is living proof that success comes with determination and persistence, and we want to immortalise his spirit."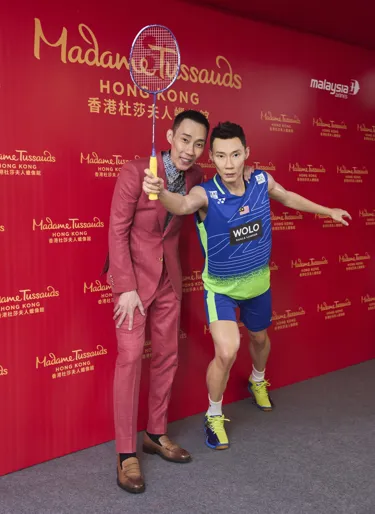 Commemorating this historical moment, Lee Chong Wei donated his Yonex jersey from his final Olympics performance in Rio 2016. The wax figure dons the Lee Chong Wei Rio Olympic Limited Edition jersey to commemorate his participation in the Rio Olympics, as well as the SHB-01 LTD LCW shoes and Yonex Duora 10 LCW badminton racquet.
Lee shared that the stance he chose for the wax figure was his signature "Ready to fight!" pose that has been seen throughout the years on thousands of badminton courts all over the world before starting any match. It represents a calm mind, a trained body that is prepared, and a heart that is determined to make Malaysia proud.  
Lee Chong Wei said, "Though I have retired from professional badminton, it is a sport that will always be a big part of my life. Seeing this wax figure evokes many wonderful memories for me and honours the career that I have dedicated my life to and shaped me into who I am today."
Lee Chong Wei holds a record of 349 weeks as the top badminton player worldwide – spending a consecutive 199 weeks at the top spot. With 69 super series titles under his belt, he was also chef-de-mission for Malaysian contingent in the 2021 Tokyo Olympics. He is also the country's most successful Olympian, holding three silver medals.
"I am so excited to see my doppelganger standing in Madame Tussauds Hong Kong. It is my honour to be featured alongside other legendary sports heroes. The team has put in a lot of time and effort creating this wax figure, and I can't thank them enough for this recognition of my badminton career," said Lee Chong Wei.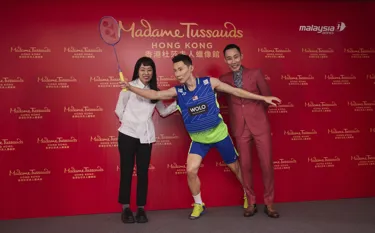 Fans who wish to see Lee Chong Wei's wax figure can visit Madame Tussauds Hong Kong's website to purchase attraction tickets. Madame Tussauds Hong Kong is managed by Merlin Entertainments, which has also recently opened Hong Kong's only LEGO-themed indoor family-friendly attraction – the LEGOLAND® Discovery Centre Hong Kong.
More details on Tickets & Offers