Madame Tussauds Hong Kong unveils Princess Kate and Prince William's figures
Thursday 3rd November 2022
What's New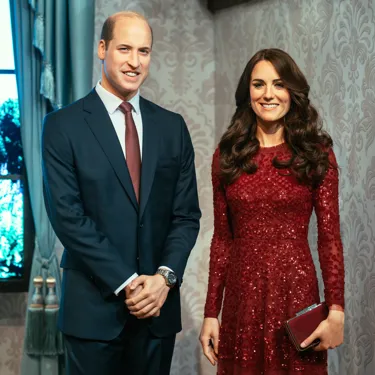 Madame Tussauds Hong Kong is kicking off its newly revamped 'Historical and National Heroes' zone by welcoming brand-new wax figures of Princess and Prince of Wales, Kate Middleton and Prince William.
In addition to the two new members of the Royal Family, the new zone also offers interactive educational experiences. Guests can master royal etiquette with lessons from The Royal family and indulge in the charms.
The new 'Historical and National Heroes' at Madame Tussauds Hong Kong welcomes the wax figures of the Prince and Princess of Wales. Guests can finally get up close with this model couple! Prince and Princess of Wales are some of the world's most-loved icons, with their every move making headlines and igniting conversations.
At Madame Tussauds Hong Kong, the Princess of Wales's wax figure wears a shimmering confection of red sequins and tulle dress from the British brand Needle & Thread. Kate Middleton wore this outfit when she attended a reception at Buckingham Palace as part of the U.K.-Africa Investment Summit. Though gorgeous, the dress is affordable, demonstrating Middleton's elegant taste and accessible personality. The figure also carries a red handbag and heels and is accessorised with ruby earrings and her beautiful wedding ring. With her signature smile, Kate is the centre of attention at the museum's newly renovated Historical and National Heroes zone. The outfit of Prince William's wax figure is also inspired by his looks at the same event at the Palace, with his signature navy-blue single-breasted suit with a white dress shirt and a burgundy patterned tie, which perfectly syncs with Kate's outfit.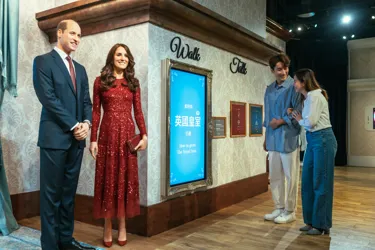 The renovated 'Historical and National Heroes' zone has also added a series of interactive experiences. Guests can learn royal etiquette, from handshake and sitting posture to greeting and speaking like a royal. They can pose as members of the royal family for their social media posts.
Eric Mak, General Manager, Hong Kong Cluster of Merlin Entertainments, said, "We are excited to launch the renovated zone and usher in a new "Historical and National Heroes" zone. Guests have an enthralling new way to get familiar with the royals. With interactive setups and experiences, they can experience the charms of the Royal Family in a fun and captivating new way."
Starting from today until 31 December 2022, guests can purchase the megastar Combo at a special rate of HK$450. The package includes 2 Admission Tickets, 1 VIP Digi Photo Pass and 2 Crystal Pens (HK$720). Call your relatives and friends for a glamorous star tour now. 
BUY NOW