Madmae Tussauds Hong Kong Unveils Pia Wurtzbach as The First Ever Filipino Wax Figure
Friday 29th March 2019
Madame Tussauds Hong Kong
What's New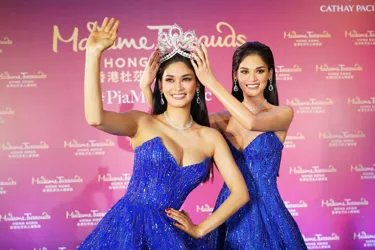 HONG KONG (29th March 2019) Get ready to watch history in the making as Madame Tussauds Hong Kong's first-ever Filipino wax figure is launched in Manila! Celebrate Filipino excellence, meet the iconic Pia Wurtzbach, and see her wax figure at the #PiaMadeIconic Travel Festival on March 29 at the SM Mega Fashion Hall. Visitors of the Travel Festival will not only be able to meet Pia Wurtzbach, they'll also get to be the first ones to see and take selfies with the first Filipino wax figure.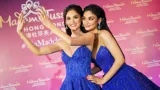 The reveal has been highly anticipated by Filipinos and fans around the world, with details about the wax figure being released slowly over the course of several months.  After much discussion on what the figure's final pose would be, it was decided that it would capture the Miss Universe crowning moment so fans and guests can experience what it's like to be crowned by Pia herself. "We want all of you to experience what it's like to strike your most confidently beautiful pose and receive the crown for yourselves!" Pia says.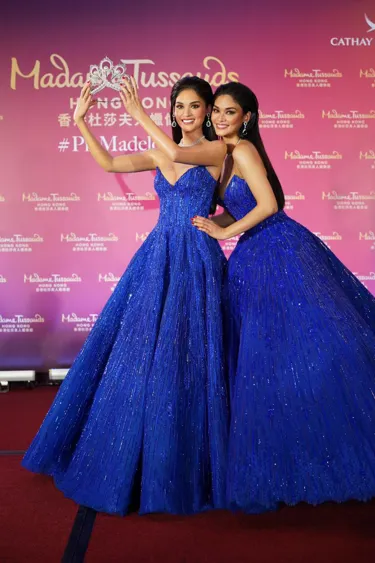 Pia's wax figure wears a replica of the iconic Swarovski-embellished royal blue ball gown by Michael Cinco, which she wore when she passed on the crown in 2016. The dress was tailor-made by the designer himself, saying, "Dressing up her wax figure and to represent our country [are] already an honor and a great experience in my career. It is an impalpable dream come true."
The event is made even more historic by the fact that is the first time a wax figure is being flown to its home country before being brought to its permanent location. After the unveiling, it will be brought to its permanent home in Hong Kong where it will join some of the world's biggest icons at Madame Tussauds Hong Kong, including Brad Pitt, Angelina Jolie, Michelle Yeoh, Bruce Lee, Jackie Chan, and Siwon Choi.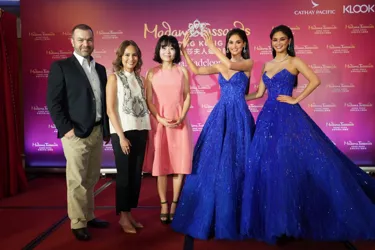 "Our Filipino guests have always been very important to us and we've always believed we should have a Filipino wax figure, so we're very pleased to have Ms. Pia Wurtzbach mark this milestone with us," says Madame Tussauds Hong Kong General Manager Jenny You. "We can't imagine having anyone but her to represent the Philippines in this way."
As a beauty queen, actress, and humanitarian, it's no surprise that Pia was selected to become the pioneer Filipino wax figure at the world-renowned attraction. "When I found out, I was so excited. I couldn't believe it! In my head, this is something only happens to big stars," Pia says. "Now, thinking that I'm going to be one of them, I'm very honored, I'm very grateful.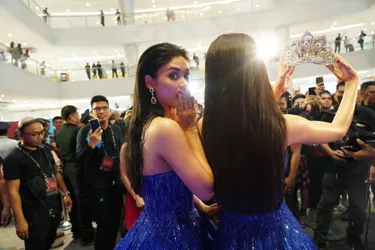 The Travel Festival, where the wax figure will be unveiled, is a result of a partnership between three major travel brands. Premium airline Cathay Pacific, a world leading travel and activities booking platform Klook, and of course, Madame Tussauds Hong Kong are coming together to provide frequent and first-time flyers to Hong Kong with enticing travel packages and other fun activities throughout the day.
Early birds at the travel festival will be able to enjoy a limited number of exclusive packages that bundle a Cathay Pacific ticket to Hong Kong and a Madame Tussauds Hong Kong pass, redeemable via the Klook app. Cathay Pacific and Klook ambassadors will be supporting the travel fair as well.
"For over 70 years, Cathay Pacific has been committed to making sure Filipinos can enjoy traveling in the best way possible," says Cathay Pacific Philippines Country Manager Rob Bradshaw. "Hong Kong has always been a very important destination for us as this is what we consider to be the airline's home, and being able to bring Hong Kong and the Philippines even closer together means a lot to us. Cathay Pacific, Klook, and Madame Tussauds Hong Kong are working together for the first time to enrich the Hong Kong experience for first-time and frequent flyers, and we're very excited about being able to take Filipinos see Pia's wax figure at Madame Tussauds Hong Kong."
"Klook really aims to make sought-after attractions accessible to every traveler. Based on the number of admirers Pia won over during her reign as Miss Universe, we can tell that Madame Tussauds in Hong Kong will be a must-visit for Pinoys now that an icon like Pia will be housed there. It's an extremely proud moment for us," adds Michelle Cruz, Klook Philippines' Market Lead.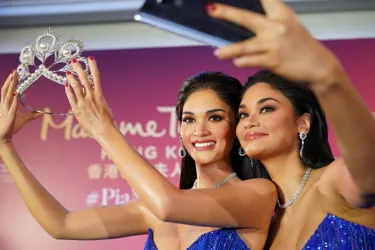 "More than being a queen, she has all the makings of an icon and we're proud to be able to house her wax figure at Madame Tussauds Hong Kong for the rest of the world to be able to interact with," Jenny adds. "We're very pleased that we're partnering with Cathay Pacific and Klook in enriching the Hong Kong travel experience and celebrating Filipino excellence on a global scale."
Madame Tussauds Hong Kong is home to immersive and interactive zones that bring to life iconic personalities and cultural landmarks throughout history, including those in entertainment, sports, science, politics, and fashion. Strut down the runway at fashion week, give a speech at the Presidential podium, and practice your kung-fu moves!