Nashville Zoo Flamingos Flock to Madame Tussauds Nashville in Honor of National Pink Flamingo Day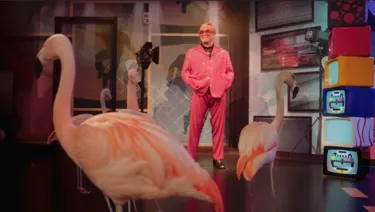 In celebration of National Pink Flamingo Day, Nashville Zoo flaunted its flamingos at Madame Tussauds Nashville. These wondrous, genteel birds with their long necks, sticklike legs and splendid scarlet pink color created a striking visual next to Madame Tussauds iconic wax figures as they roamed through the world's greatest wax museum. The flamingos strutted their way through the attraction in honor of their special day in A-List fashion, posing perfectly with each figure. The favorite of the flamboyance, however, was undoubtedly Sir Elton John.
The unexpected combo of wax figures and flamingos came together to highlight the triumphant return of travel and tourism in Nashville. "Celebrating National Pink Flamingo Day is a fun and fabulous way to shine a spotlight on Nashville Zoo and Madame Tussauds Nashville to remind locals and tourists alike of two amazing, must see, family-friendly attractions as tourism begins to flourish once again in Music City," said Stephanie Vitale, marketing manager at Madame Tussauds Nashville.
"As Ambassador Animals, these flamingos frequently travel to different places to help the Zoo with conservation and environmental education," said Jac Menish, Nashville Zoo's Curator of Behavioral Husbandry. "We are delighted that Madame Tussauds is allowing our flock to take a tour and meet some interesting folks both real and wax."
Guests are invited to escape and embrace the heart of music at Madame Tussauds Nashville and strut their stuff alongside the flamingos at the Nashville Zoo, both attractions deemed a "must-see" when visiting Music City.