Before You Arrive Ain't Got Time For Lines, Book Online. What's The 411? Keep Up Via Social. Plastic Fantastic! We Are Cashless. Not Feeling 100%? Please Stay Home. Tickets Can Be Used Another Day.
On Arrival We Love A New Glossy Sign. Read Them, They Are Helpful. Make Room. Celebs Need Their Space. Oh Snap! Some Experiences May Be Limited Or Unavailable At Times. Plexiglass - Our New Best Friend. Keep You And Our Teams Safe.
Spick And Span! Cleaning, Sanitizing, Wiping. A Lot. Increased Deep Cleaning. Be Wise. Sanitize, Oh And It's Free - WHOOP Our Teams Complete COVID-19 Trainning To Keep Everyone Safe And Healthy.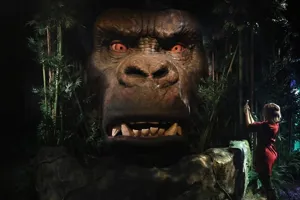 Discover A World Of Celebrity Fun
Get in an empire state of mind whilst playing piano with Alicia Keys... Be a guest on The Tonight Show Starring Jimmy Fallon... Answer the call and join The Ghostbusters to capture the famous ghost, Slimer... Join the cast of Cats, sing with the Phantom of the Opera and score songs on a giant floor piano with Andrew Lloyd Weber's famous Broadway musicals...
Book online for Best Price Guarantee