STEP INTO THE SPOTLIGHT
Become a star at Madame Tussauds with over 85,000 square feet of interactive entertainment in the heart of Times Square! Get in an empire state of mind whilst playing piano with Alicia Keys... Be a guest on The Tonight Show Starring Jimmy Fallon and score songs on a giant floor piano with Andrew Lloyd Weber's famous Broadway musicals...
GROUPS OF 15+
From a family reunion to a team outing, Madame Tussauds will provide your group with an unforgettable one-of-a-kind experience. We offer discounted rates to groups of 15 or more for a self guided tour that takes 1 1/2 to 2 hours.
Save up to 35% on pre-booked packages
Marvel 4D Experience (upgrade option)
Flexible payment options
Online booking form
Star-Studded Safety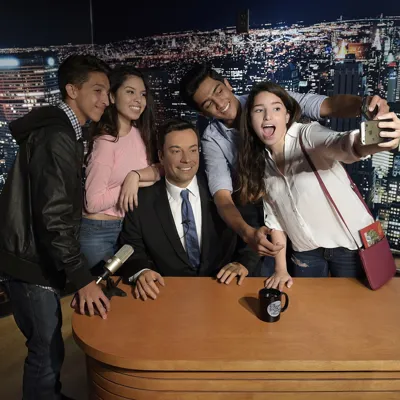 TOUR OPERATORS
In a city with millions of things to see and do, there is only one place where over 5 floors of celebrities and icons provide you with the experience of a lifetime. We will easily accommodate and assist in the planning of your tour group! Advance reservations are required.Contact us for tour and travel rates by email at GroupSales@MadameTussaudsNY.com
Discounted Rates
5 floors of icons & celebrities 
Marvel 4D Experience (upgrade option)
Mission: Undead 7D Zombie Game (add-on option)
Star-Studded Safety
Flexible booking & payment options
SCOUT GROUPS
We have packages that offer incredible value for Boy Scout and Girl Scout troops. Plan a day of famous fun for your troop as they come face to face with their favorite celebrities, sports icons, legendary leaders in more at this must-see attraction in Times Square.
Discounted pre-booked packages
Limited Edition Commemorative Patch
Marvel 4D Experience (upgrade option)
Mission: Undead 7D Zombie Game (add-on option)
Flexible payment options
Online booking form
READY TO BOOK?
If you are interested in booking a group visit please complete our short inquiry form and a member of our booking team will be in touch to discuss availability. 
BOOKING POLICIES:
Discounted rates are available to pre-booked groups such as family reunions, team outings, scouts, summer camps, day camps, senior groups, YMCAs, Parks & Rec Associations, kids clubs, youth groups, and more. Groups that arrive without a reservation will be charged the walk-up admission rate. 
Youth groups receive 1 adult admission for every 5 paying children
Minimum number of people required to receive group pricing is 15
All prices are subject to tax. Tax exempt forms must be submitted before payment. 
Payment is due 2 weeks prior to your visit date by company check or Visa/MasterCard
Changes and cancellation can be made up until point of payment.
Submit Booking Request