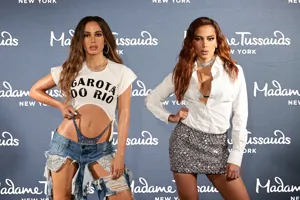 The Girl from Rio
As the biggest-ever global female popstar to come from Brazil, and the first-ever Brazilian solo artist to take the mainstage at Coachella, Anitta is perfectly suited for the honor of receiving a wax figure. Fans won't be "Faking Love" for this figure as they get up close and personal with the Versions of Me global superstar's wax figure that was revealed at Madame Tussauds New York with a side-by-side photo session.
"It's amazing to be a part of this project! At first I couldn't believe I was actually invited. I mean, I never thought that a wax figure of me could be next to some of the biggest stars ever at Madame Tussauds, in New York. A lot of hard work from the museum team came into this so I am very proud and excited for the world to see it", said Anitta.
The striking figure sports a short cut-off tee-shirt revealing toned abs and a bejeweled G-string, ripped jeans and denim pointed boots to complete the fashion forward ensemble. The entire look was worn and donated to Madame Tussauds by Anitta. Madame Tussauds studio artists worked closely with Anitta and her team of make-up artists and hairstylists to capture her exact measurements, hair color, eye color, tattoos, skin tone + complexion - dozens of detailed notes resulted in a meticulous match of the Brazilian beauty.
Buy Tickets Now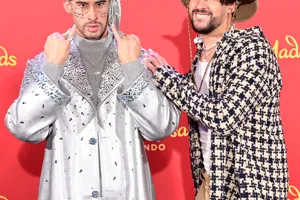 "Bad Bunny Bad Bunny"
2x Grammy Award-winning, Latin singer-songwriter and producer, Benito Antonio Martínez Ocasio, better known as Bad Bunny, came by Madame Tussauds New York to launch his wax figure with a side-by-side celebration. Fans will instantly recognize the signature pose and hand gesture – *pinkies up* – selected by Bad Bunny himself.
The figure is wearing his iconic all-silver look from the 2020 Super Bowl Halftime Show with Jennifer Lopez, Shakira, and J Balvin. In Bad Bunny's own words, this outfit is "very iconic and [from a] very spiritual moment in my career. This is originally the Super Bowl outfit, and that was very special for me."
Upon entering the Music Room, guests will first be greeted by Bad Bunny and surrounded by the sounds of his infectious discography. As the headliner of the last space in the attraction, Bad Bunny's wax figure is sure to leave a lasting impression on every fan!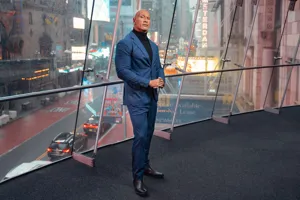 Face Off with the Rock!
Actor, businessman, and former professional wrestler Dwayne Johnson has dominated the screen and the ring, and now has a wax figure at Madame Tussauds New York to show for it! One of Hollywood's most successful male actors and producers, Johnson has starred in a number of box office smash hits, including Jumanji, Moana, Furious 7, and Jungle Cruise. Widely regarded as one of the greatest professional wrestlers of all time, Johnson first rose to fame as WWE's "The Rock."
The Rock's New York figure features the actor in a blue suit with a black turtleneck - replicating his red carpet look from the premiere of Jumanji: Welcome to the Jungle in 2017. Surrounded by photo flashes and positioned at the front entrance as the first figure guests will see, New York City's Dwayne Johnson will be the ultimate star-studded welcome at the iconic Times Square attraction.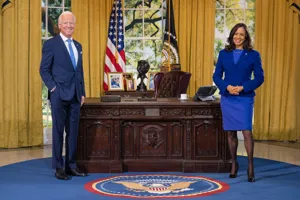 Joe Biden and Kamala Harris Have Taken Office - the all-new Oval Office Experience!
Guests can get up close and personal with President Biden and Vice President Harris in the all-new Oval Office Experience!
With visits by administration invite only, the world's greatest wax museum offers you an interactive alternative– the nation's only re-creation of the President's current Oval Office.
It's a longstanding tradition for Madame Tussauds to create a wax figure of each U.S. president, but it's an honor that has never-before been extended to the Vice President, until now! Not only has Kamala Harris made history by becoming the first woman, first black person, and first Asian American Vice President, but she is making history – her-story – yet again.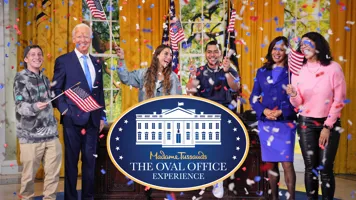 Explore Joe Biden's Oval Office
QR codes accessible via mobile device invite you to explore the carefully chosen details and designs in Joe Biden's office, making history come alive (and not in a boring old textbook).
Designed with notable attention to detail, the Oval Office replica features the classic Resolute Desk, Biden's blue rug with the Presidential Seal and gold drapes, framed personal family photographs, a bust of Mexican-American civil rights activist and labor leader Cesar Chávez – sculpted by a Madame Tussauds studio artist, a genuine Cross Century II rollerball pen – the exact model that Biden used to sign his Inaugural Day proclamations, and more! What will you find inside?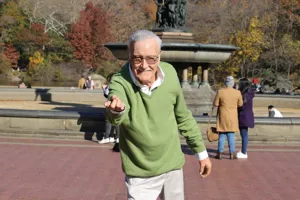 Stan Lee Swings into Madame Tussauds New York!
EXCELSIOR! Madame Tussauds New York has partnered with Stan Lee's POW! Entertainment to pay homage to comic book writer, editor, producer and overall legend Stan Lee with a new wax figure in his hometown of New York City. In true superhero fashion, Stan Lee's figure will stand alongside the very characters and universe he helped build, greeting guests as they step through a portal and enter the newly refreshed and expanded Marvel Hall of Heroes, starting November 25th. This all-new experience allows guests to immerse themselves in the Marvel universe like never before!
Crafted with meticulous precision, the wax figure features Stan Lee in a classic 'Spidey' pose, with a big, warm smile and his famous aviator glasses. The figure will be dressed in the outfit he wore to the "Avengers: Infinity War" premiere on April 23rd, 2018 - including his classic green cardigan, khakis and white sneakers.
"The legacy of Stan Lee continues to live on through his incredible body of work as well as in all of our hearts.  It's a great joy to see Stan Lee's wax figure at Madame Tussauds and to give his loyal fans a new way to engage with our dear friend," said Gill Champion, CEO and President of POW! Entertainment. "I know Stan would get a kick out of seeing himself immortalized in wax standing shoulder to shoulder with many of the heroes he loved so much."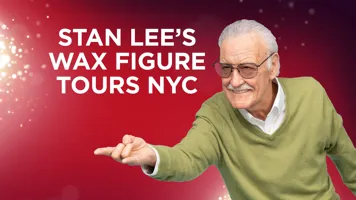 Stan Lee's Wax Figure Tours NYC
On November 18, Madame Tussauds New York offered fans a sneak peek of the figure at three iconic locations in New York City, all with personal ties to Stan's legacy and the characters he created. Stops on the tour included the famed 177A Bleecker Street, Dr. Strange's Sanctum Sanctorum; Bethesda Terrace, the spot in Central Park where Thor and Loki said goodbye to the Avengers before going back to Asgard; and the newly christened Stan Lee Way, near where Stan grew up in the Bronx. Each stop offered fans the opportunity to see the figure for the first time before it moved to its final location at Madame Tussauds New York in the heart of Times Square.