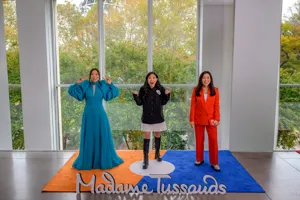 Awkwafina is Nora From Queens... and Now a Wax Figure! 🌐
New York-native and multi-talented actress, writer, and producer Nora Lum – best known to the world as Awkwafina – met her TWO wax figures for the first time in her hometown Queens at Flushing Meadows-Corona Park, once home to the historic New York World's Fair, amidst stunning views of the globally recognized local landmark The Unisphere.
Known for her incredible talent and infectious charm, Awkwafina has taken the entertainment world by storm over the years, earning rave reviews for her performances in Warner Bros. now-classic film Crazy Rich Asians and her hit Comedy Central series Nora From Queens. In 2020 she won the Golden Globe Award for 'Best Actress – Motion Picture Comedy or Musical' for her performance in Lulu Wang's The Farewell.
The New York figure is set in a dynamic pose that embodies the star's vibrant and charismatic spirit, dressed in an elegant blue gown, matching earrings, silver heels, a ring, and Awkwafina's signature 'NY' wrist tattoo. The look is reminiscent of the high-neck, deep V bodice organza Monique Lhuillie gown Awkwafina wore to the 2021 Emmy Awards.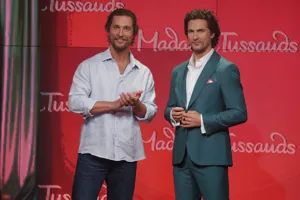 Academy Award-Winning Actor Matthew McConaughey Keeps on L-I-V-I-N
That's what you gotta love about this wax figure, man. You get older, but it stays the same age. Today, Madame Tussauds New York revealed Academy-Award winning actor Matthew McConaughey's brand new wax figure. McConaughey met his wax figure during his appearance on The View, where he also shared details about his new children's book, "Just Because."
McConaughey's figure is wearing an emerald green suit styled with a white shirt and a white pocket square with a red border. The outfit also includes white and green shoes and minimal gold jewelry. The look is inspired by his 2021 Tonight Show appearance in New York City.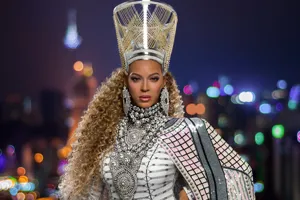 Bow Down for Beyoncé's New Wax Figure 👑
Bow down BeyHive because the Queen – one of the greatest performers of our generation – is receiving a new wax figure at Madame Tussauds New York 🐝
Beyoncé's memorable look is a dazzling recreation of her showstopping Homecoming ensemble from her 2018 Coachella performance, where she made history as the first black woman to headline the festival. Debuting at Edge, the highest outdoor sky deck in the Western Hemisphere, the figure took in stunning sights of the New York City skyline in every direction. Sparkling under the night sky, the figure is wearing a replica of the Balmain bodysuit and cape, along with cane and ornate headpiece emulating the powerful Queen Nefertiti. The figure can be seen in the Glow Gala room.
Jennifer Lopez's Newest Wax Figure Is Here!
Just in time for Jennifer Lopez's birthday and summer release of album This Is Me… Now, Madame Tussauds New York revealed its latest wax figure of the superstar artist. JLo's new figure is leaving it all On The Floor, dazzling in an ensemble inspired by her opening look from the Super Bowl LIV Halftime Show in 2020.
The "I'm Real" singer will have fans wondering if her figure is in fact real, positioned atop a replica of the glowing Empire State Building-modeled spirepole from the beginning of her Super Bowl performance. The figure is clad in a leather zip-up vest embellished with sparkling hardware and thigh-high, open-toed leather boots with gold studs to match. Completing the look is a satin pink skirt layered with a gold chain belt. Lopez's figure is accessorized with gold fingerless gloves as well as a white gold and diamond necklace.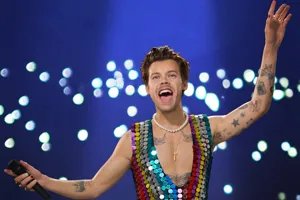 Harry Styles Joins Our Star-Studded Celebrity Line-Up
After years and thousands of fan requests, Harry Styles will take to the stage for a second time, with seven new figures of the trendsetting solo artist set to be unveiled across the world-famous attraction's estate, a whole decade after Harry first graced the stage with his former One Direction bandmates.
Visitors to Madame Tussauds in several cities around the world, including New York City, will be able to get up close and personal with the multi-award-winning singer-songwriter as he triumphantly returns to the Madame Tussauds limelight exactly 10 years after the One Direction figures were unveiled in New York.
Madame Tussauds New York guests will be dazzled by Harry's rainbow sequined jumpsuit, an outfit made famous by his now legendary 2022 Coachella performance.
Emmy, Tony and Grammy Award-Winning Singer, Actor and Fashion Icon Billy Porter Reveals His Wax Figure
Madame Tussauds New York is excited to welcome Billy Porter's first-ever wax figure, and it's more fabulous and lifelike than anyone can imagine! The Grand Marshal of NYC Pride himself, Porter is known to sport fearless, show-stopping looks. Keeping in line with his fashionable reputation, Madame Tussauds joined forces with the original designers of his headline-grabbing red carpet look from the 2020 Grammy Awards. The minds behind Porter's ensemble, Creative and Fashion Director Sam Ratelle, Baja East's Scott Studenberg, and milliner Sarah Sokol, recreated the disco-esque, blinged-out blue jumpsuit with shiny silver 'Kinky Boots' to match. The figure can be seen in the Glow Gala room.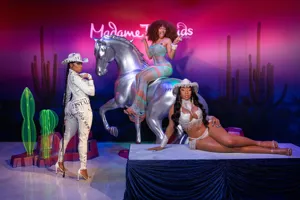 It's Real Wax Girl Sh*t! Two Megan Thee Stallion Wax Figures Revealed
Three-time Grammy Award-winning rapper and singer-songwriter Megan Thee Stallion has officially welcomed her two wax figures at Madame Tussauds Las Vegas and Madame Tussauds New York. Extra, extra read all about it because her latest figure in Vegas is savage in a fierce newsprint catsuit and donated matching cowboy hat with fingerless gloves. The outfit was inspired by her photoshoot that promoted the debut of her critically acclaimed album, Good News. Megan's New York figure bodied that, ate it up and gave it back, as she's posed on her side laying down in a donated diamante bikini and matching cowboy hat, gauntlets and choker. The look was inspired by a recent brand partnership. The new figures were revealed at Madame Tussauds Las Vegas on a colorful and interactive set featuring a magical, metallic 10-foot stallion.
The New York figure can be seen in the Music room.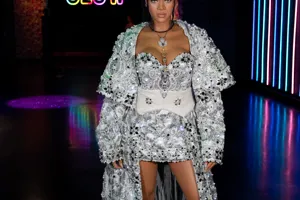 Rihanna Shines Bright Like a Diamond 💎
Take a bow for Fenty founder and Grammy Award-winning icon Rihanna as her latest wax figure joins Madame Tussauds New York. Just days ahead of her highly anticipated live Super Bowl Halftime performance, Madame Tussauds New York is excited to welcome Rihanna's new wax figure to the world's greatest wax museum. Located in the Glow Gala Room, her figure is based on her iconic outfit from the "Heavenly Bodies" themed 2018 Met Gala: an embellished strapless mini dress worn with a matching mitre (headdress), a long matching coat with a caped collar, and a pleated skirt with a very subtle waterfall hem, cinched in at the waist by a wide pearled belt. The entire ensemble featured an added bonus of LED lights synched to the experience, putting the "glow" in the Glow Gala!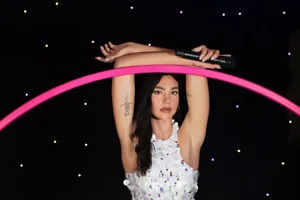 Dua Lipa Levitates Her Way into Studio 2054
Grammy Award-winning British pop star Dua Lipa received her latest wax figure, inspired by her "Studio 2054" take on the iconic New York venue.
"I absolutely am honored to have my new wax figure displayed at the world's greatest wax museum, Madame Tussauds New York in Times Square. It has been a privilege to work closely with the artists and creatives on making the figure just right," said Dua Lipa. "I hope guests of the museum enjoy her as much as I do!"
Dressed in her famous custom white sequined outfit by The Attico, Dua's new wax figure also wears The Jimmy Choo MICA 100mm square-toe ankle-boot, which covers the foot entirely in techno stretch satin. Combining the clinging, streamlined design with razor sharpness, these boots have a strong, sharp extended sole chiseled into a square toe, with an almond heel.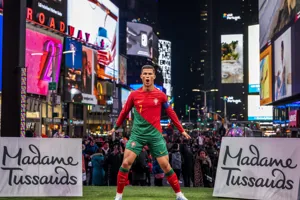 Siuuuuu! Cristiano Ronaldo Takes over Times Square ⚽️
Cristiano Ronaldo, arguably the greatest footballer of all time, revealed his latest wax figure with the world's greatest wax museum, Madame Tussauds New York right in the center of Times Square! Just days ahead of the World Cup, Ronaldo became the first athlete to ever accomplish a "Times Square takeover," a feat matched in exclusivity by being honored with a Madame Tussauds wax figure. The epic moment captured the attention of a cheering crowd as Ronaldo gave a personal message to his fans, amplified by his native country's destination agency Visit Portugal across multiple jumbotrons in the heart of New York City. Prompted by CR7 himself, the audience celebrated his latest achievement by joining the G.O.A.T in striking his world-famous "siuuuuu" pose.
Ronaldo was blown away when meeting his wax figure in person, especially the likeness of his hair and eyes. "This is wax? Are you kidding?" said Cristiano Ronaldo. "The face is unbelievable. Imagine two Ronaldos!"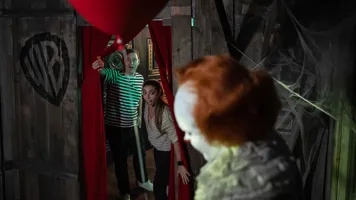 Enter if you dare!
Come face to face with Warner Bros. Icons of Horror at Madame Tussauds New York. Plunge into chilling scenes of some of the most classic horror films ever released by Warner Bros. and New Line Cinema! For the first time ever, Annabelle and The Nun from The Conjuring Universe, Regan MacNeil from The Exorcist, and Pennywise from IT will bring life to all four films under one roof. It's time to face your fears!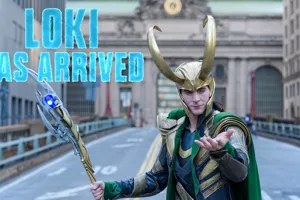 Loki has arrived 💚
Your savior is here! Kneel before the God of Mischief in the MARVEL Hall of Heroes. Loki, God of Mischief, has teleported straight to Madame Tussauds New York in Times Square after an official debut at New York Comic Con. The Loki figure is inspired by his character from the quintessential 'Battle of New York' sequence featured in Marvel Studios' The Avengers (2012), making New York City the perfect home for The God of Mischief. To celebrate the arrival, Madame Tussauds placed the Loki figure in front of Grand Central Terminal, an iconic view immediately recognizable by Marvel fans as the site of the battle and one of the most historic New York City landmarks. The notorious Asgardian trickster is sporting his classic headpiece, glowing scepter and green and gold cloak. No, this Loki is not shape-shifting, but strikingly based on the likeness of English actor Tom Hiddleston.