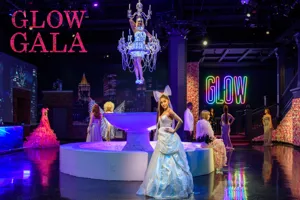 The Biggest and Brightest are Waiting for You
Inspired by New York's own gala scene, the Glow Gala transports you up atop an exclusive NYC rooftop for a party you won't want to miss!
The room is packed with today's hottest celebrities, including Ariana Grande, Justin Bieber, P Diddy, Angelina Jolie, and even some of the Kardashians.
Detailed touches like floral walls and neon art installations provide the perfect photo-op for some GALAmorous memories.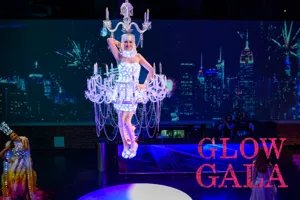 A Cityscape Show
The multi-level Glow Gala area comes to life with state-of-the-art projection technology and a dramatic, lighting extravaganza, choreographed to a hit, New York City-centric soundtrack. Celebrity figures like Lady Gaga, RuPaul, and Priyanka Chopra are synched with the show, wearing custom illuminated outfits inspired by some of their best Met Gala looks.
Katy Perry's figure takes center stage – or rather center ceiling – in this 360 ̊ experience, suspended from the ceiling and styled in a recreation of her iconic 2019 Met Gala chandelier dress.