The Oval Office Interactive Experience
Joe Biden's Interior Decorating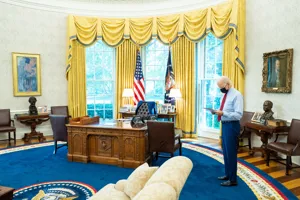 Gold Drapes 
The drapes in Biden's Oval Office were previously used during the Trump administration and originated during the Clinton administration. In addition to representing wealth and success, gold is also representative of loyalty, passion and wisdom.
Designed by Kaki Hockersmith of Little Rock, Arkansas, where Bill Clinton is from, she said in 2001 that "the president wanted a strong patriotic statement– red, blue, and gold. He wanted it to mean something." 
Empire valances and blue banding accentuate the gold damask pattern, which was inspired by a fabric used by George Washington during his presidency, although he never lived in the White House.
Michael S. Smith, the decorator for Barack Obama, says that the design feels "sunny and light. I like seeing President Biden with what looks like warm sun coming through the windows."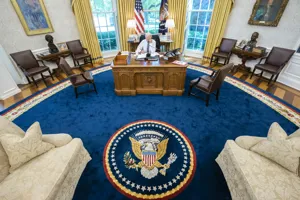 Deep Blue Rug
This dark blue rug also originates from President Clinton's White House, replacing the cream-colored rug used by Trump. It features the Presidential Seal encircled by 50 white stars, a gold double-rope, and a red border.
Hockersmith explains her design theory: "So, we had bold, bright colors that were the colors of our flag and military. The carpet has symbols in it, like laurel leaves for peace and wide rope borders for unity and bonding nationally and internationally."
On Biden's selection, Hockersmith was honored, saying that "it was very gratifying, and I'm sure it was to President Clinton and people who spent a lot of time in that office."
The deep blue hue and use of a Clinton-era design may be a token of dedication to Biden's colleagues and predecessors in the Democratic party.
Scan the next QR code to learn more!