The Oval Office Interactive Experience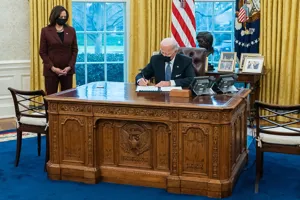 The Resolute Desk
The Resolute Desk is the most iconic, classic feature of the modern Oval Office, the formal working space of the President of the United States. It was first used in that location by President John F. Kennedy in 1961 as part of a White House redesign and restoration spearheaded by First Lady Jacqueline Kennedy.
The wood is reclaimed from the British exploration ship the HMS Resolute, which was found abandoned in the Arctic by American whalers. The United States purchased, repaired, and returned the ship to the United Kingdom as a symbol of friendship. After it was retired 25 years later, Queen Victoria commissioned the desk to gift to the White House under President Rutherford B. Hayes in 1880.
Pens and Padfolios
You won't find the President signing with thick black markers anymore! The pens on Biden's desk are used to sign Executive Orders and legislation.
Biden uses the iconic Century II rollerball pen in black lacquer with gold accents, manufactured by the Rhode Island-based A.T. Cross Company, which was founded in 1846. Each pen is engraved in gold with Biden's signature and the Presidential Seal.
Nicola Shepherd, marketing director at Cross, notes, "One of the distinctive features of the Cross Century II rollerball pen is that it offers a customized writing experience." Biden uses a felt-tip for a bold effect, but it can be easily replaced with a ballpoint.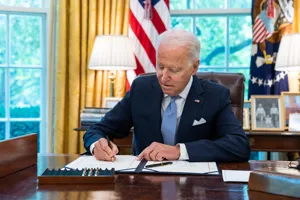 At signing ceremonies, the pens are often given to political allies who worked on those issues. As Obama's White House Staff Secretary Lisa Brown explains, this tradition is "a way of the president thanking somebody on his team for doing a lot of work."
Presidents have been using Cross Pens since the 1970s, and Biden's continued use is thought to symbolize a return to a more customary practice and traditional presidency.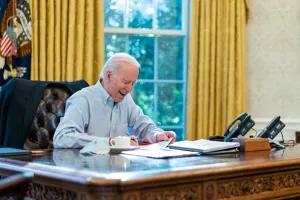 Cup & Saucer and Two Phones
No more Diet Coke button on this desk – now it's a cup of joe for Joe! President Biden loves his coffee, so a cup and saucer are frequently by his side.
Biden's two phones are manufactured by Cisco and retrofitted by a communications security company to ensure the handset and speakerphone do not record or transmit any audio when not in use. 
Scan the next QR code to learn more!