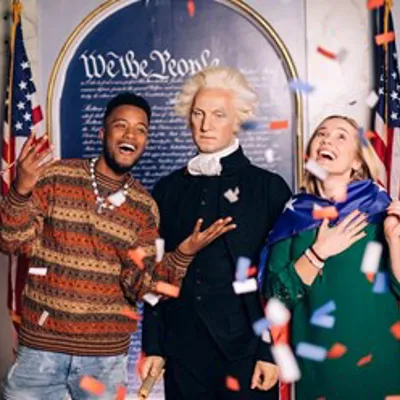 10 IS MORE FUN THAN ONE!
Become a star at Madame Tussauds Orlando! From a family reunion to a team outing to scout groups to tour operators, Madame Tussauds Orlando will provide your group with an unforgettable one-of-a-kind experience full of fantasy and fame! We offer discounted rates to groups of 10 or more for a self-guided visit. 
Save up to 40% on pre-booked packages
Admission to the world's greatest wax museum
Online booking form
Star-studded safety
Ready to book? If you are interested in booking a group visit please complete our inquiry form and a member of our booking team with be in touch to discuss availability. 
BOOKING POLICIES:
Discounted rates are available to pre-booked groups such as family reunions, team outings, scouts, summer camps, day camps, senior groups, YMCAs, Parks & Rec Associations, kids clubs, youth groups, and more. Groups that arrive without a reservation will be charged the walk-up admission rate. 
Groups receive 1 free tickets for every 10 paying tickets. 
Minimum number of people required to receive group pricing is 10 paying guests. 
All prices are subject to tax. Tax exempt forms must be submitted before payment. 
Payment is due at least 24 hours prior to your visit date by company check or credit/debit card payment. 
Changes and cancellation can be made until point of payment. 
Submit Booking Request