Bollywood star Kajol visit Madame Tussauds Singapore to unveil her wax figure with Live Side-by-Side
Friday 25th May 2018
Madame Tussauds Singapore
New figure, IIFA Awards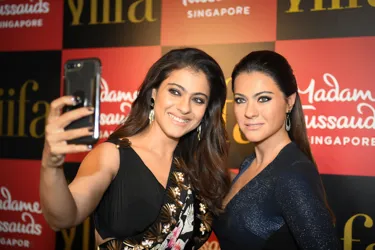 Singapore, 25 May 2018 – Bollywood fans, prepare yourself! Kajol joined the IIFA Awards party at Madame Tussauds Singapore. Her figure is the newest addition to the International Indian Film Academy (IIFA) Awards Experience, an interactive zone where you can surround yourself with A-list Bollywood stars and experience stardom. The Bollywood legend herself came to Singapore for a live side-by-side, where she unveiled her wax figure.
"It is truly an honour to have my own wax figure here at Madame Tussauds Singapore. The entire experience from my sitting to the actual unveiling of the figure has been surreal. When I heard I would get my own figure in Madame Tussauds I was really thrilled. Now, seeing the figure in real life, the details are incredible, it's like looking into a mirror" Said Kajol.
Acclaimed for detailed and lifelike creations, this process took 5 months for Madame Tussauds' professional artists and sculptors to create a true-to-life representation of the Bollywood star. The dress Kajol's figure is wearing is donated by Prabal Gurung, the stunning dark blue gown that put her on the best dressed list across Indian publications during a red carpet walk in 2017.
"It is an honour to welcome Kajol personally to our attraction for the unveiling of her wax figure. With so many of our visitors coming from India, we want to make the Bollywood experience one of the highlights when visiting Singapore. We received lots of requests for Kajol's figure and we look forward to offering her fans the chance to share the stage with her." said Alex Ward, General Manager, Madame Tussauds Singapore.
Kajol's figure joins other Bollywood stars including Shah Rukh Khan, Amitabh Bachchan, Aishwarya Rai, Madhuri Dixit and Ranbir Kapoor in the IIFA Awards Experience where you can re-live the glamour of the Bollywood awards ceremony. Walk the green carpet, snap selfies and dance with your own back up dancers on the big screen. You can star on the cover of the IIFA Magazine and shine on stage where you receive your own award. Your time is now to take the spotlight! It doesn't stop here, Madame Tussauds Singapore will continue to invest more for the India market in the following years.
-END-