Introducing Asia's First Ever Marvel Loki Figure
Saturday 10th December 2022
Madame Tussuads Singapore
Marvel, New figure, Loki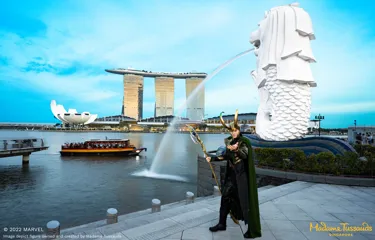 Clad in his classic headpiece, a glowing scepter and a green and gold cloak, Asia's first ever Loki wax figure features the likeness of actor Tom Hiddleston. (Source: Madame Tussauds Singapore)
Kneel before the God of Mischief as Madame Tussauds Singapore launches the first ever Loki figure in Asia. He joins the Marvel superhero line-up with Spider-man and Iron Man in their highly immersive and interactive sets. Clad in his classic headpiece, a glowing scepter, and a green and gold cloak, the figure's detailed and lifelike features will make visitors think that Tom Hiddleston is in the house!  
"We are excited to include Loki in our ever-expanding team of Marvel superheroes in our attraction. Marvel fans worldwide will not only get to be up close with the Marvel figures but also enhance their Marvel experience with the all-action Marvel Universe 4D film. Fans can look forward to more Marvel content and launches to come," said Steven Chung, General Manager of Madame Tussauds Singapore. 
To celebrate the arrival of Loki, Madame Tussauds Singapore has partnered with Singapore Comic Con (SGCC) for an exclusive launch on 10 and 11 December 2022 at Sands Convention Centre. Marvel fans at Comic Con had the privilege to witness the launch of the figure and also had a chance to take photos with the figure. 
"I've always wanted to see Tom Hiddleston in real life but this is just as good." – Milodrums
"Wow he looks very very real… wax solid." - Melody
Explore Madame Tussauds Singapore Marvel Zone
Feel the power of your favourite Marvel Super Heroes in our Marvel Zone with Ironman, Spiderman, and our latest addition, Loki the God of Mischief!