Lay Zhang has joined the red carpet at Madame Tussauds Singapore
Tuesday 1st October 2019
Madame Tussauds Singapore
New figure, Music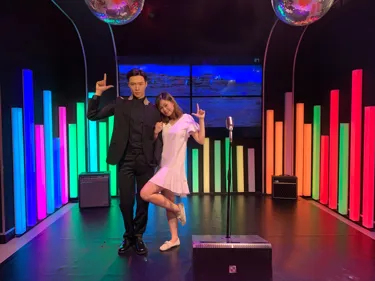 Popular singer Lay Zhang's wax figure has joined the red carpet at Madame Tussauds Singapore at the Music zone, with a restyled look, and meaningful hand gesture his fans made for him – the 'Love Lay' sign. Madame Tussauds Singapore is the first stop outside China with his concert outfit, with black and gold details. His wax figure will be here temporary, before he sails off.
"I am very happy to be in Madame Tussauds Singapore in this outfit! Let's 'sail' together and work harder!" says Captain Lay.
The fun does not stop with just taking photo with his wax figure, it will also be paired with an AR interactive screen soon, where guests can interact with their favourite idol by sitting right next to him, or even hugging him!
"We are very honored to have Captain Lay joining the famous fun in Madame Tussauds Singapore. We know that many fans cannot wait to interact with their favourite idol. Madame Tussauds Singapore offers 5 different unique experiences all under 1 roof, and with Captain Lay joining us, we are definitely a must-go attraction on the Sentosa island!" said Alex Ward, General Manager of Madame Tussauds Singapore.
Are you ready to sail with Captain Lay? Raise the roof with him at the Music zone, and do not forge to follow our Official WeChat account for latest update!