MADAME TUSSAUDS MARVEL 4D EXPERIENCE OPENS ITS DOORS
Thursday 14th December 2017
Madame Tussauds Singapore
New zone, Marvel 4D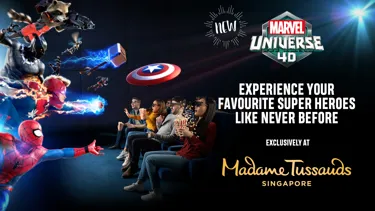 Singapore, 14 December 2017 – Get ready! Madame Tussauds Singapore launches its new immersive zone, the Marvel 4D Experience, today!  Now a permanent home to Marvel's most loved Super Heroes,  Madame Tussauds Singapore is thrilled to introduce Spider-Man, Iron Man and Captain America within highly interactive and innovative sets, and also includes a Marvel 4D movie – a first for Asia! Step into their shoes and get in on the action - perfect for families and super heroes alike!
Marvel 4D Cinema
Guests will truly feel the thrill in Asia's first Marvel 4D cinema, transporting them straight into the heart of an action-packed feature, and the battle between good and evil. This ultra-realistic experience is brought to life using state of the art projection combined with animation, forming the extra-sensory fourth dimension. Visitors may question their own reality as they witness iconic Singapore landmarks as the setting for this epic battle; the 10 minute spectacular also aims to build a sense of resonance with the local audience, as they play an important role in helping the Super Heroes save their city from the cunning Doctor Doom!
Screenshots from the Marvel 4D video featuring iconic Singapore landmarks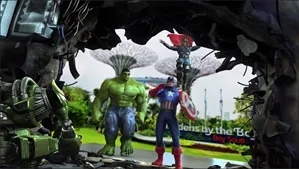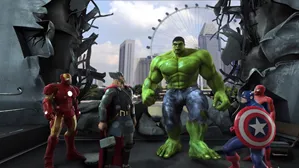 Marvel 4D Experience
SPIDER-MAN swings into the spotlight, hanging off the side of a building over the Singapore landscape featuring the iconic Marina Bay area, sporting his classic blue and red suit. Step into the movie and take the opportunity to make interactive, wild and fun photos with Spider-Man as if you are hanging off the side of the building with him!
Enter IRON MAN our favourite billionaire Super Hero blasts his way into Madame Tussauds, sporting in his armoured suit, with a built-in LED display. Why not try on the iconic suit of armour, you can experience what it feels like to yield the power IRON MAN!
But WAIT, stood amidst the centre of apocalyptic war-torn cityscape, looking absolutely unfazed (as expected), is Captain Rogers, aka. CAPTAIN AMERICA. Stand proud with him, and capture the moment when he finally defeats evil and save civilisation.
"Madame Tussauds Singapore is honoured to invite the well-loved Super Heroes to our attraction. With the influx of Marvel movies and their massive fanbase, we want to create an all-new experience for our guests, both at home and abroad. We look forward to the success of the Marvel 4D Experience and maybe even the possibility of other Avengers joining the team... who knows?," said Craig Connor, General Manager, Madame Tussauds Singapore.
With this latest addition to the world-famous attraction, Madame Tussauds Singapore continues its momentum of making significant investments to shift the attraction's focus to interactive experiences. From the IIFA Awards Experience and the VR Racing Experience, to the exciting Marvel 4D Experience, Madame Tussauds Singapore has now strengthened its offerings to create an attraction that is suited for all ages!
ENDS