Madame Tussauds Singapore honours iconic Bollywood legend, Sridevi
Tuesday 13th August 2019
Madame Tussauds Singapore
Ultimate Film Star Experience, New figure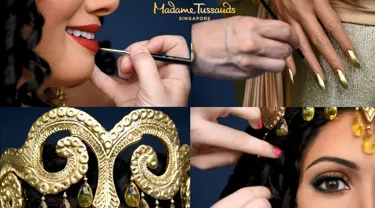 As a tribute to Bollywood icon Sridevi, Madame Tussauds Singapore announces the launch of her exclusive wax figure, crafted in memory of the legendary actress to coincide with what would have been her 56th birthday today.

Sridevi's wax figure is the only one of its kind in the world and an exclusive addition to Madame Tussauds Singapore. Created posthumously, a team of 20 skilled artists worked closely with Sridevi's family over the course of five months to replicate her pose, expressions, make-up and iconic outfit. "It was a privilege to recreate such a legendary star in close collaboration with her family," said Lizzie Parkinson, Costumier from Merlin Magic Making team in the UK. "What made this project particularly challenging and interesting was the recreation of her outfit. Her crown, cuffs, earrings and dress brooch were 3D-printed, and went through numerous tests to achieve the level of detail needed. It was a joy to see everyone's work come together and we look forward to unveiling the figure soon."

The figure will be officially launched in early September by Sridevi's husband Boney Kapoor, Indian film producer, and his two daughters, Janhvi Kapoor and Khushi Kapoor. He says, "I am touched that Madame Tussauds is honouring my wife, Sridevi Kapoor, and her work by having her figure immortalised. I, along with my family will be a part of the occasion when the figure is unveiled in Madame Tussauds Singapore at the Ultimate Film Star Experience. We hope this exhibit can be a place for everybody to continue paying their tributes to her."

Placed at a Mr. India set in the Ultimate Film Star Experience (UFSE) zone, the figure will be accompanied by a special memorial wall where Sridevi's fans can leave their tribute messages. There will also be lucky fans from Madame Tussauds Singapore's social media pages selected to join the event and witness the unveiling of the star's wax figure along the family. Further details will be announced on their official Facebook, Instagram and Twitter pages.

Alex Ward, General Manager of Madame Tussauds Singapore said, "Sridevi is an icon in Indian cinema and the Ultimate Film Star Experience (UFSE) zone would not be complete without her. We are honoured to play a part in keeping her legacy alive in Madame Tussauds Singapore and look forward to unveiling the commemorative wax figure, the first and only one of its kind in the world, with Sridevi's family soon."
Sridevi is one of the most influential actresses of Indian cinema, inspiring numerous actresses and amassing hordes of fans worldwide. Regarded as the first female superstar of Indian cinema, she redefined the importance of female leads in India's largely male-dominated film industry. Sridevi won countless accolades during her lifetime, including the prestigious National Film Award, the Nandi Award, as well as the Padma Shri. She established herself in Bollywood in a career that spanned five decades.
The newly launched UFSE spanning 2,500 sq ft, brings guests on a journey through the glitz and glamour of Indian cinema culture from the moment they step through the doors and join the world's largest celebration of Indian superstars. The unique experience utilises cutting-edge technology like Kinect and AR to give visitors the chance to step into the limelight: https://youtu.be/EmLdC8Vhzq4
-END-