Madame Tussauds Singapore Invites Fans to Take a Photo with Harry Styles Wax Figure
Tuesday 18th July 2023
Madame Tussuads Singapore
New figure, Harry Styles, Music

Singapore, 18th July 2023 - After years and thousands of fan requests, Madame Tussauds has revealed Harry Styles will take to the stage for a second time, with seven new figures of the trendsetting solo artist set to be unveiled across the world-famous attraction's estate, a whole decade after Harry first graced the stage with his former One Direction bandmates.  
Visitors to Madame Tussauds in London, New York, Hollywood, Amsterdam, Berlin, Singapore and Sydney will be able to get up close and personal with the multi-award-winning singer-songwriter as he triumphantly returns to Madame Tussauds on 17th July 2023, with the figures striking seven different poses inspired by some of Harry's show stopping appearances from around the globe. 
With the news set to keep fans late night talking, the seven new figures depicting Harry in some of his most glamorous garb have been carefully sculpted by Madame Tussauds artists who have been hard to make sure the creations capture the As It Was singer's signature style. 
Harry Styles Wax Figures are Wearing Outfits Made Famous by His Movie Premieres and Concert Performances
All seven figures stand red-carpet ready in multiple outfits inspired by fashionista's favourite looks from recent years. Madame Tussauds London will celebrate Harry's acting turn, with the figure sporting a forest green blazer and pistachio trousers made famous by the My Policeman premiere. Madame Tussauds Berlin sees Harry donning a pink leather waistcoat and oversized pink fur coat, while Madame Tussauds New York will be dazzled by Harry's rainbow sequined jumpsuit, both outfits made famous by his now legendary Coachella performance. 
Harry Styles' Love On Tour Concert Inspired His Statue's Outfit in Madame Tussauds Singapore
The music phenomenon's Love On Tour, tour provides the inspiration for Madame Tussauds Amsterdam, Hollywood, Singapore and Sydney. Madame Tussauds Amsterdam will see a suited and booted Harry, as he struts to the stage in a pink embroidered double-breasted suit. Taking to the streets of Tinseltown, a bronze fringed sequin vested Harry will star in Madame Tussauds Hollywood, while in Oz, a figure modelling an electric pink shirt and signature pink feather boa made famous by his San Jose performance will be in residence at Madame Tussauds Sydney. 
With Madame Tussauds Singapore being the only attraction in Asia with Harry's figure, fans can look forward to seeing Harry in his iconic blue and yellow two piece accompanied with bedazzled features of strawberries and stars with silver discs from the Glasgow leg of the Love On Tour tour.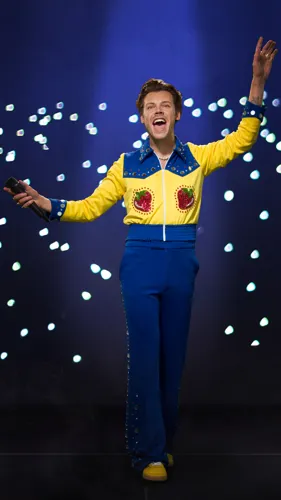 Harry Styles in his custom matching blue and yellow outfit. (Photo: Madame Tussauds Singapore)
Angela Jobson, Global Brand Director Madame Tussauds, said: "Harry is one of the biggest stars in the world right now, from filling stadiums worldwide with his sell out tours to being a fashion influencer, there is no denying he has left a timeless mark on popular culture. When the opportunity came up there was no hesitation, we jumped at the chance to add the Grammy award-winning superstar to our collection, and we cannot wait for fans to see him at any one of the seven venues worldwide." 
Harry's seven figure launch comes after his most successful year yet, the My Policeman and Don't Worry Darling star completed a total 109 shows in over twenty different countries in 2022 and is currently continuing this momentum with his European tour. 
For those who are excited to see Harry's figure, can do so by visiting Madame Tussauds Singapore's website at www.madametussauds.com/singapore to purchase attraction tickets. To stay updated on any upcoming Harry Styles wax figure events, sign up for our newsletter or follow Madame Tussauds Singapore on Facebook and @MTsSingapore on Instagram, Twitter,  and TikTok.
Explore Madame Tussauds Singapore Music Zone
Surround yourself with some of the legends in our Music zone. Do the moonwalk with Michael Jackson, jump on stage with JJ Lin and show your moves to Madonna!