Priyanka Chopra Jonas joins the A-list at Madame Tussauds Singapore
Tuesday 18th June 2019
Madame Tussauds Singapore
A-list, New figure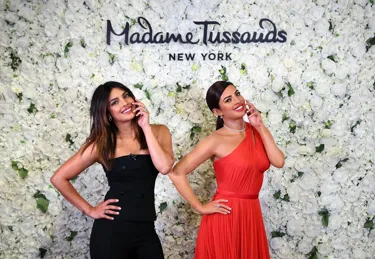 Superstar now immortalised across four continents, with figures in Singapore, New York, London and Sydney
 18th June 2019: Madame Tussauds Singapore today revealed its first ever figure of Priyanka Chopra Jonas in Asia, ending months of fan speculation and completing the global superstar's arrival at sites across four continents.
The Vogue cover star has been working closely with Madame Tussauds' team on the epic four-figure project since 2018, beginning with a private sitting at Priyanka's New York City apartment. Fans have been waiting to see the hotly-anticipated Asia arrival since the first figure was revealed earlier this year in Priyanka's adopted hometown of New York. Today, Madame Tussauds Singapore joins its sister sites in London and Sydney in unveiling their figures to long-awaiting fans.
Madame Tussauds Singapore is the first station of her touring figure in Asia. After a limited period of time, her figure will be touring in Bangkok and Hong Kong next.
A star of over 50 films whose acting prowess has taken Hollywood by storm, Priyanka is a passionate advocate for women's issues and equality and a UNICEF Goodwill Ambassador.  
"Working with Madame Tussauds' team has been so much fun. I'm so thrilled to have a touring figure meeting my fans in Asia too – Singapore, I am coming now! Take as much selfies as you can with me and I am looking forward to seeing them all on social media." said Priyanka Chopra Jonas.
Priyanka's figure is styled to match her iconic 'Desi Girl' appearance from the movie Dostana. She is surely going to make a gorgeous impression at the attraction's A-list Party area, where guests can also find other international superstars such as Johnny Depp, Leonardo DiCaprio, Nicole Kidman and many more.
Alex Ward, General Manager at Madame Tussauds Singapore said, "We are so excited to be the first Madame Tussauds in Asia to receive Priyanka's figure. Since last year, we have received overwhelming requests from our guests and Priyanka's fans to have her figure here, in Singapore. She is an obvious choice to add to our A-list line-up."  
Besides expanding their star-studded line-up, Madame Tussauds Singapore also recently launched a 2,500 sq ft new second gate – the Ultimate Film Star Experience. To find out more and book tickets, visit https://www.madametussauds.com/singapore/