Time travel with Madame Tussauds: Images of Singapore to launch new virtual tour
Monday 17th August 2020
Madame Tussauds Singapore
Images of Singapore, Virtual Tour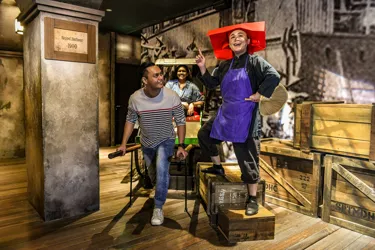 Madame Tussauds Singapore proudly introduces a brand new experience together with Team Building Team Learning (TBTL) Pte Ltd. "Virtual Images of Singapore" is an interactive learning journey for primary, secondary and tertiary students. Led by a time travelling host students will be transported to significant moments in Singapore's history without ever having to leave their seats. The virtual tour makes use of an interactive portal where the students can participate and strive for a top spot in the educational quiz.
"Virtual Images of Singapore" is a 1.5 hour interactive learning journey, which can be booked for up to ideally 25 people per session. Participants travel to historical moments such as the signing of the Singapore Treaty in 1819 and the moment Singapore became independent on the 9th of August 1965.
"Although we can still host groups to our attraction – divided in smaller subgroups of 5 people, we did receive many requests for virtual group tours. That's why we started the partnership with TBTL. In order to continue delivering memorable, educational and safe experiences to local schools we wanted to change both our way of thinking and our way of working. We are happy that we are able to adapt Images of Singapore to the needs of our guests in these challenging times. We have received fantastic feedback on our new product and hope  to take many more students on this fascinating journey through Singapore's history in future." said Alex Ward – General Manager of Madame Tussauds Singapore.
The new virtual and interactive program is based on the"Images of Singapore" experience.
Madame Tussauds is located in Imbah Lookout on Sentosa and houses 5 experiences under one roof: Madame Tussauds, Images of Singapore, Ultimate Film Star Experience, Spirit of Singapore boat ride and the Marvel 4D Experience.
 ENDS