10 Signs You Have Bieber Fever
Wednesday 1st March 2017
justin bieber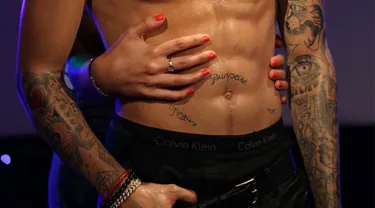 We urge Australians to check for signs of 'Bieber Fever'!
We are urging Aussies to check for signs of 'Bieber Fever', as the highly contagious condition prepares to sweep the country, with Sydney expected to be the hardest hit.  With March 1 – Justin Bieber's 22nd Birthday – historically shown to be the riskiest period of infection, we are attempting to raise awareness of the disease during 'Bieber Fever Awareness Month' and also offer to help those already affected!
 If you think that you or someone you know might have Bieber Fever, please check the below symptoms.  If you present with 3 or more symptoms, we advise that you to report quickly to us here at Madame Tussauds Sydney where we can assist with treatment via our unique 'exposure therapy'.
 "We've seen many guests walk through our doors with severe cases of Bieber Fever, but when they get to see, hug and take a selfie with our two Justin Bieber wax figures, they get their Bieber fix and it's amazing to see how quickly symptoms improve, or in some cases, subside completely," said Madame Tussauds General Manager Connolly. "with figures of both young Bieber from his 'Baby' days, or the new grown-up Bieber modelled of his recent Purpose World Tour, we find that most patients get the Bieber hit that they are looking for".
To be safe, join us at Madame Tussauds this March and April: we encourage a regular dose of hugging, ab touching and selfie-taking with our new Justin Bieber wax figure, from now until he leaves for his next tour location in late April 2017.
Symptoms of 'Bieber Fever'
Do you find it difficult to stop yourself from singing Justin's hit song 'Baby' when you see a real baby?
Have you grown a sudden affliction for white bandanas and drop-crotch pants?
Do your loved ones get irritated at your ability to burst into tears when you hear the words, 'Justin Bieber'?
Do you find yourself deleting your Spotify playlist history before giving your device to anyone else in fear of being judged?
Do you find yourself questioning your life's 'Purpose' on a regular basis?
Has your partner become a little over zealous with the hair bleach?
When a loved one is struggling in life, do you find your first piece of advice is, 'Baby, you should go and love yourself?'
Do you think the word 'swaggy' is appropriate for use in everyday conversation?
When in meetings at work or at home, are you using the phrase, 'What Do You Mean' more frequently?
Do you secretly love Canadians?
If this is you, what are you waiting for?  Check out our tickets and see if we can find a cure!