5 Unique Date Ideas in Sydney
Friday 15th February 2019
valentines day, date ideas, things to do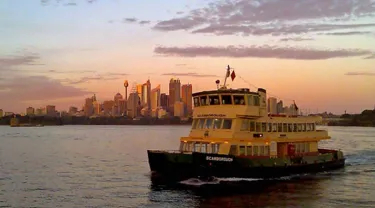 If you want to impress, you've got to think outside the dinner-and-movie-date square. To make a lasting impact, take your crush somewhere out-of-the-ordinary. Whether you're nervously planning date number one or looking to spend some quality time with your long-time partner in crime, we've got some top-notch Sydney date ideas: places you can adventure that won't break your budget.
Take a Dusk Ferry Ride
Sydney Harbour is alive with iconic yellow-and-green ferries, as well as the sleek, newer fleet. Whatever the boat you board, the beauty of taking a ferry ride is how romantic it is as the day is coming to an end. You can't get more romantic than having the wind in your hair as you watch the seagulls catch the slipstream. There's no better way to see the city; as the lights come on, the water takes on colourful reflections, giving you and your date a ride to remember.
Celebrity Spotting at Madame Tussauds Sydney
This unique interactive fame experience lets you get up close to celebrities. Filled with life-size figures, Madame Tussauds Sydney has no shortage of selfie opportunities, and with plenty of celebrity trivia to gossip about, you won't have to suffer those awkward silences. Instead, you can bond over how much hair Prince William has. And, if you want to take things to next-level cute, you and your date can get a cast of your intertwined hands, and take home your wax hand as a memento. You can also put yourselves on a customised cover of Cosmopolitan magazine, and type in a cheeky headline or two. Then, show your date your superhuman strength, by lifting a helicopter with Superman.
Sunset From Sydney Tower Eye
This is the last place in Sydney to see final dusk. From the Observation Deck of the Sydney Tower Eye, known by the locals as 'Centrepoint,' you can get stunning 360-degree views of Sydney, from 250 metres above the street level. Snuggle up to your date as you take a selfie of you both against the sunset, and chat about what you see from what feels like the top of the world.
Hang Out at Maccallum Pool
This is a lesser known date place gem. Hidden along the foreshore walk at Cremorne Point, this little ocean pool with its timber deck is set right on the harbour's edge. And it even has a freshwater shower to rinse off with a panoramic view of the city. Surrounded by grassy spots with jaw-dropping views, after your dip, you can lay out a picnic and soak up the sun, or watch the day come to an end. Without the crowds, you and your date can get to know each other without a care in the world.
Kayak in Tandem
The harbour is our playground, so what better place for a date than on it. There are loads of spots you and the apple of your eye can launch your double Kayak, from The Spit in Mosman to Rose Bay to Manly. Pack some snacks in a waterproof bag so you can beach yourselves in a bay and share some delicious goodies while you chat about what you saw. Some ideas of places to explore are Shark Island or Quarantine Station for a truly unique date day.
With magical sunsets, wonderful waterways and interactive experiences, our harbourside city is packed with charming date ideas.