A Unique Place to Go Dancing in Sydney
Thursday 17th October 2019
sydney, things to do, dancing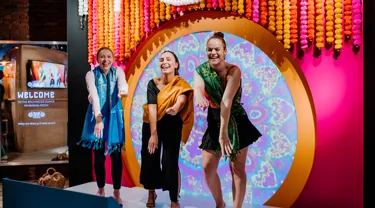 Don't wait for the weekend. If you're looking to get your groove on – there's a party going on in Sydney's CBD!
Party with the Stars
Madame Tussauds Sydney is the one place all the stars can be found, any day of the week! It's the most glamorous gathering of celebrities this side of Tinseltown. Meet all your favourite A-list superstars. Mingle with Sydney socialites and check out how they look in real life! The Party Zone is the perfect place to bring a date; the shared hilarity is guaranteed to make nerves disappear. Don't forget to wear your dance pants, because the DJ booth is taking requests!
The Silver Screen A-Listers
If you're looking for star power, this is the place! Sidle up to brothers, Chris and Liam Hemsworth. And lock eyes with the likes of Rebel Wilson, Nicole Kidman, Angelina Jolie, Brad Pitt, Barack Obama, Cate Blanchett, Rove McManus, Leonardo DiCaprio, Delta Goodrem, Amanda Keller and Johnny Depp.
Fun fact: Chris Hemsworth's uncle is the real-life bushman who was the inspiration for Crocodile Dundee.
Bollywood's Best
This is a call… to get on the dancefloor, because no one sits down in Bollywood! The glamorous industry has given us some of the world's leading dancers and most entertaining film stars. Come and swoon over the amazing Shah Rukh Khan. And for a limited time, you can meet Aishwarya Rai! She was the very first Bollywood actress to be immortalised in wax at Madame Tussauds in London. Now, her likeness is here in Sydney, ready for a meet and greet.
Go backstage on a film set, to get a behind the scenes perspective. Then, choose an authentic Bollywood outfit, because the starring role is yours! Hone your dance moves in the rehearsal studio, and hit the stage for an experience, rated 100% fun!
Fun Fact: Aishwarya Rai's on-screen debut was in an ad for pencils when she was in Year 9.
Moved by Music
Feel the rhythm race through your body in the MTV Music Zone. It's exhilarating to be surrounded by so many stars. From Taylor Swift to Michael Hutchence, Katy Perry to Keith Urban, the buzz in the room is unmistakable. Grab the microphone, and jump into the recording booth to warm up your vocal cords, before accepting your best newcomer award from Adele. Then, let loose and shake it up on the dance floor. For even more excitement, strap into the virtual reality headset and be whisked away to a live music festival!
The Music Scene A-Listers
If you want to meet the velvet-voiced superstars, this is the spot! See musical mentors like Adele, Lady Gaga, Taylor Swift, Justin Bieber, Katy Perry, John Farnham, Kylie Minogue, Jimmy Barnes, Michael Hutchence and Keith Urban.
Fun Fact: Katy Perry's parents are Pentecostal pastors.
Fashion Face
Warning: you're heading into fashion land, and things are about to get gorgeous! Including you, with full digital makeover care of the Fashion Zone's impressive technology. Slip into the latest trends, with all the poise of a professional. Then shimmy up to a supermodel for a selfie, using #TussaudsSydney. Then, dance your way down the runway with sass and style!
The Fashionista A-Listers
When it comes to trendsetters, this location is in vogue! Hit the catwalk to take a pic with Megan Gale, Elle MacPherson and Miranda Kerr.
Fun Fact: Miranda Kerr was Australia's very first Victoria's Secret model.