Aquaman To Make A Splash At Madame Tussauds Sydney This December
Wednesday 28th November 2018
aquaman, justice league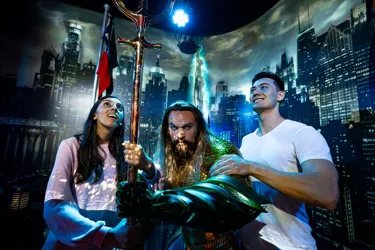 Atlantis is calling. Aquaman joins the Call for Heroes at Madame Tussauds Sydney on December 13! Will you answer the call? 
The hero of the deep, Jason Momoa's Aquaman finally makes landfall at Madame Tussuads' Justice League: A Call for Heroes exhibit in Sydney. This interactive exhibit has been home to Superman, Batman, Wonder Woman and The Flash for several months, and they're now being joined by Atlantean royalty Arthur Curry, in celebration of the new Aquaman film, releasing on December 26 in Australia.
Can you dig deep and help Aquaman harness the powers of the sea?
Here are some top tips to help you skip the queues and see Aquaman first this summer: 
Book Tickets Online
No need to wait in the long peak season queues! Book your Madame Tussauds tickets online in advance and save up to 20%!
Download your tickets on your phone!
Once you have purchased your tickets online you can download them onto your mobile device. When you arrive at Madame Tussauds Sydney, jump straight over to the Madame Tussauds entry and be scanned right through! 
Bring along your selfie stick! 
Be sure to bring your cameras, phones and selfie sticks to ensure you snap the perfect picture of you and Aquaman harnessing the forces of the sea!