Australian fashion icon Megan Gale to be immortalised in wax for new Fashion Week experience
Wednesday 3rd May 2017
fashion, megan gale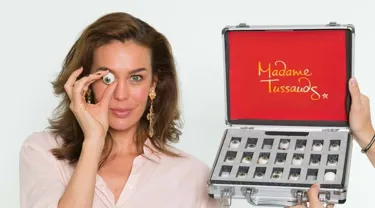 Fashion icon, model and business mogul, Megan Gale is the latest Australian to be honoured with a wax figure at Madame Tussauds Sydney. To be officially unveiled in May, the Australian superstar will take pride of place in the Darling Harbour attraction's new Fashion Week experience, alongside the wax figures of fellow iconic Australian models Elle Macpherson and Miranda Kerr.
Commenting on the news, Megan Gale said, "I am immensely honoured to be joining the Madame Tussauds Sydney family and to be following in the footsteps of so many great Australian icons. I can't wait to see the end result and come face-to-face with my wax figure in May".
The Madame Tussauds sitting process for the busy mum of one (soon-to-be-two!) took place in Megan's home town of Melbourne in November 2016, taking three hours and over 250 measurements to ensure an exact replica of Megan could be created.
Megan's wax figure introduction to the Madame Tussauds Sydney family will be a fashion inspired affair, with the figure on display in the attraction's brand-new, interactive Fashion Week experience. By partnering with leading fashion, beauty and lifestyle brands, the new experience allows guests to immerse themselves in the glitz and glamour of the fashion world through an array of interactive experiences including a digital make-over and a magazine cover photo-shoot. Celebrating all things Australian fashion, visitors will be able to see Megan's world first figure for the first time while walking a purpose built catwalk to pose alongside the iconic Australian model.
Megan Gale's Madame Tussauds Wax Figure will be unveiled in mid-May 2017. This date will also officially mark the opening of Madame Tussauds Sydney's new Fashion Week experience.