Be dazzled by Bollywood legends at Madame Tussauds Sydney
Sunday 25th October 2015
bollywood, priyanka chopra jones, dance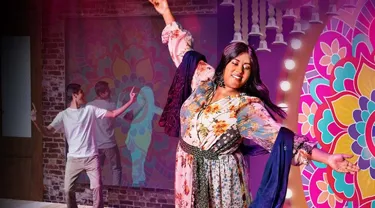 Lights, Camera, Bollywood zone!
Step backstage and join former Bollywood Legend now Hollywood star Priyanka Chopra Jonas and Shah Rukh Khan on a movie production set where you take the starring role!
Get ready to DANCE! Pick your outfit in our dressing room then head into the Dance Studio to learn some iconic Bollywood dance moves. Once you've mastered the routine, head onto the main stage for your performance!
And then it's time to ACT! Strike your best pose and become the star of the story in your favourite iconic Bollywood scenes including Dilwale Dulhania Le Layenge'
Celebrate Diwali, the festival of lights, with Madame Tussauds Sydney and meet a fabulous line-up of five wax figures created by our world famous sculptors in a special limited time only Bollywood experience. The five day Diwali festival signals the triumph of light over darkness and good over evil so illuminate the darkness of the New Year's Moon with Madame Tussauds Sydney!
From September, guests are invited to be dazzled by colourful costumes, elaborate makeup, enchanting music and videos all in a vibrant new setting which will make you fall in love with the biggest names in Indian cinema. Guests can get up close to the stunning stars of Bollywood, dress up in colourful costumes and even try their hand at Bollywood dancing.
The limited time Madame Tussauds Sydney Bollywood experience features Shah Rukh Khan, one of Bollywood's most renowned actors and often referred to as "King Khan;" Aishwarya Rai, one of the leading contemporary actresses of Indian cinema who was featured in the blockbuster action thriller Dhoom 2; Hrithik Roshan, acclaimed actor and recipient of numerous Best Actor awards; Kareena Kapoor, who is noted for her performances across a range of film genres, from romantic dramas and comedies to independent films and major Bollywood productions; and Amitabh Bachchan, regarded as one of the greatest and most influential actors in the history of Indian cinema.
Located in Darling Harbour, dance in and indulge your senses in the all-new Bollywood experience, just one of the 10 zones to explore at Madame Tussauds Sydney, open to the public everyday throughout the school holidays.