Become a 'Trouple' for Valentine's Day!
Thursday 14th February 2019
valentines day, rebel wilson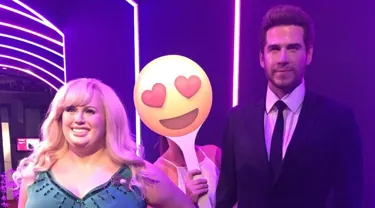 Third Wheeling is so last season, being in a 'tr-ouple' is the new trend!
Are you always the third wheel? Well, now it's time to rejoice! Following Rebel Wilson's recent social post, claiming that 'I've never EVER had an actual date on Valentine's Day' Miley Cyrus invited Rebel to join her and Liam as a 'tr-ouple', coining a new term that celebrates three-way couples!
We're jumping on the bandwagon at Madame Tussauds Sydney and offering the perfect day date destination for tr-ouples! Not only can you snap up a THREE for TWO ticket offer for the month of February*, you can also capture the perfect 'tr-ouple' pic of your own with the hilarious Rebel Wilson and Liam Hemsworth.
Mark Connolly, General Manager at Madame Tussauds Sydney said, "Who said three's a crowd? We've seen a growing trend in group outings and team trips to Madame Tussauds Sydney, so we're celebrating tr-ouples! With the amount of photos and selfies our guests take, it definitely helps to have an extra pair of hands!" 
*Quote the word: TROUPLE at the admission desk (offer is not available online) to redeem a three for two exclusive offer during the month of February 2019.
Three for Two Offer - terms and conditions: 
Quote the word: TROUPLE at the admission desk upon entry to Madame Tussauds Sydney to redeem your 3 for 2 ticket offer. Not valid with any other offer, group or advanced booking and combination or online saver tickets. Voucher holds no cash value and is not for resale. One promotion code will be accepted per transaction. Only available to be redeemed on walk-up at the admissions desk.
Promo code TROUPLE | Valid until 28 February 2019