Celebrities visit Pig the Dugong during lockdown
Wednesday 1st September 2021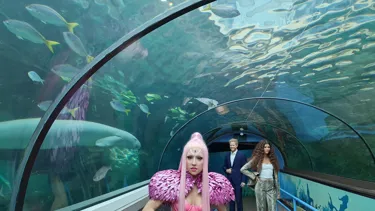 This morning, Pig the Dugong received a surprise visit from Lady Gaga, Albert Einstein, and Zendaya, as the three stars took a short trip from their usual residence at Madame Tussauds Sydney to visit the lovable Dugong next door at SEA LIFE Sydney Aquarium.
SEA LIFE Sydney Aquarium is also temporarily closed, and Pig, who usually thrives from seeing thousands of guests walk through the tunnels each week is receiving enrichment activity in new and challenging ways to ensure he's kept stimulated. 
Emma Malik, Animal Trainer at SEA LIFE Sydney Aquarium, said, "Pig really enjoys interacting with people and he's intelligent enough to recognise individuals and faces. With the aquarium now being closed to the public for 10 weeks, Pig's not seeing the usual variety of visitors and we thought we could fix that with a visit from a few stars!
"The celebrity visitors certainly piqued Pig's interest and he was very curious in the stars. Despite Lady Gaga's colourful ensemble, Pig was far more interested in Albert Einstein – we think it might be because he resembles one of his previous carers!" added Emma.
As part of Pig's daily husbandry care, the Dugong team organise a range of enrichment activities – including physical exercise, mental challenges, games, and the introduction of new toys.
In line with the NSW Government restrictions, SEA LIFE Sydney Aquarium and Madame Tussauds Sydney remain temporarily closed until Wed 30th September, but the dedicated staff continues to work to care for all the amazing animals and look forward to welcoming guests back when the doors are open.