Celebrity chef Anna Polyviou helps famous wax figures get 'red'y for Red Nose Day
Friday 14th August 2020
red nose day, curtis stone, amanda keller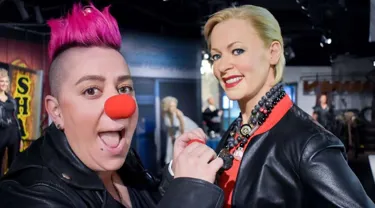 The former MasterChef Challenge Presenter and Family Food Fight Chef raced around the attraction placing red noses on 11 famous Australian wax figures, including fellow celebrity chef Curtis Stone and good friend Amanda Keller.
"Red Nose is about support, awareness and raising money for a very special cause to all of us so we can go from nine babies' lives lost everyday to zero," Anna Polyviou said. "I think about my nieces and nephews and I would be crushed if anything were to happen to them."
"So, I'm all for supporting Red Nose and the amazing work they do to help support families going through troubling times as well as research and education to prevent this happening. Now, let's get to work and raise some awareness and funds for an amazing cause so that no little lives are lost."
Other wax figures rocking red noses included Dannii Minogue, Megan Gale, Jimmy Barnes, Layne Beachley, Cathy Freeman, Sally Pearson, Glenn McGrath, Dawn Fraser and Rove McManus.
"Red Nose Day unites fun with bringing attention to a very serious issue around Sudden Infant Death Syndrome," Richard Dilly, Madame Tussauds Sydney General Manager said.
"We at Madame Tussauds Sydney along with our supporting celebrities are encouraging all Aussies to get a little silly this Red Nose Day by getting a 'whiff' of the important charity, buying a red nose and donating." 
Red Nose is Australia's leading authority on safe sleep and safe pregnancy. Its annual Red Nose Day fundraising event raises awareness about Sudden Infant Death Syndrome (SIDS) and stillbirth, which impacts 3,000 Australian families every year. Funds raised are used to support families impacted by the death of a baby or a child.
To donate to Red Nose Day today or learn more about their vital work, please visit: https://rednose.org.au/.