COMPETITION: Your soccer club could meet Tim Cahill!
Thursday 31st December 2015
tim cahill, competition, sports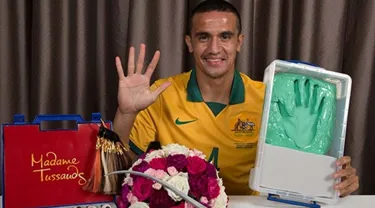 To celebrate the release Tim Cahill being immortalised in Wax, we are offering the chance for you and your soccer club to meet Tim Cahill in the flesh at Madame Tussauds Sydney. Just tell us what soccer club you are from and why you want to meet the legendary Tim Cahill?
The competiton has now closed
Terms and Conditions:
Entries and contact details must be fully completed to be eligible for the draw.
By entering this competition you agree to receive emails directly related to 'Win the chance for you and your soccer team to meet Tim Cahill' Facebook competition.
The winners will be selected by Madame Tussauds Sydney marketing staff members by 12pm on 4 January 2016.
The winners will be notified by email and phone. If the winners cannot be reached by 3pm on the 4 January 2016
a second winner will be selected, and this will continue until a winner can be found.
Limit of one entry per person, but bonus entries are awarded at a rate of 1 per Facebook friend that enters.
Prize will be to meet Tim Cahill on the 5th of January 2016 at Madame Tussauds Sydney.
All attendies names will need to be on the list by 4pm on the 4th of January 2016. If names are not on the list, they will not be permitted to enter the event.
If the child is not wearing their soccer gear, they will not be permitted to attend the event.
Due to the sensitivity of the celeberity, the time of the event will only be disclosed to the winners.
Each child is able to bring one parent to attend the event. Additional immediate family members (Mother, Father, Brother, Sister) will be able to attend the event if they purchase tickets to the attraction.
Prize items are non-transferrable, non-negotiable and are not exchangeable for cash.
Travel is not included in the prize.
Merlin Entertainments Group reserves the right to alter or cancel this promotion without notice.
Final interpretation resides with Merlin Entertainments Group.