David Beckham visits Sydney Children's Hospital
Monday 23rd November 2015
Elizabeth Riley
david beckham, wax figure, sports, sydney hospital, football, soccer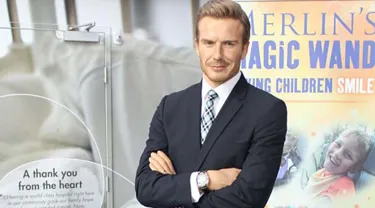 Madame Tussauds Sydney and Merlin's Magic Wand made a special visit to the Sydney Children's Hospital, Randwick to give budding sports fans an exclusive sneak peek at the interactive all-new Sports Zone, before it officially opens to the public on December 1.                        
Kicking-off the launch with bedside visits from the wax figures of international soccer superstars Lionel Messi and David Beckham, kids at Sydney Children's Hospital, Randwick were 'bending it like Beckham' as they showed off their fancy footwork on the sports-themed day.
Steve Hinks, General Manager at Madame Tussauds Sydney said the special visit perfectly embodied the sprit that has been at the heart of the Madame Tussauds brand for more than 250 years, remarking: "Madame Tussauds is all about world famous interactive fun and this visit was no exception. We're thrilled to have been given the opportunity to bring our Lionel Messi and David Beckham wax figures to Sydney Children's Hospital, Randwick and judging by the amount of laughter and smiles that was had, it was a definitely an unforgettable experience for the kids."
With the help of the Merlin's Magic Wand team, which aims to bring magic back to the childhoods of ill, disabled and disadvantaged children – young sports enthusiasts participated in a variety of hands soccer-themed activities, including face painting, arts and crafts and games.
Gilly Paxton, Director of Community Relations and Marketing at the Sydney Children's Hospitals Network, said that the special visit from Madame Tussauds Sydney was a highlight for the kids and a welcome change to what they have to undergo from day-to-day.
"We are very grateful to Madame Tussauds Sydney for providing this wonderful opportunity for our patients and families. The kids absolutely loved the chance to get up close to their sports idols—the visit will certainly be one of those days that will be remembered for some time!"
Madame Tussauds Sydney is also excited to announce that Australian soccer superstar Tim Cahillis the next sporting legend to be honoured with his own wax figure. The world-first wax likeness will feature as a permanent addition in the Darling Harbour attraction's all new interactive Sports Zone, set to officially open to the public on 1 December.
Cahill is currently playing for Shanghai Shenhua in the Chinese Super League and the Australian national football team the Socceroos, where he is the all-time top goal-scorer. On June 12, 2006 he made history by scoring the first two goals by an Australian in a FIFA World Cup finals match against Japan and has scored 5 World Cup goals in total across 3 tournaments.
"We are thrilled to soon welcome Tim's Cahill's world-first figure to the all-new Sports Zone here at Madame Tussauds Sydney. Tim is one of Australia's greatest soccer players and I have no doubt his amazingly lifelike wax figure will be extremely popular with our guests, particularly the local Chinese community," said Mr Hinks.
From December, the all-new Sports Zone will become one of the attraction's biggest yet, featuring 20 figures including three new Aussie sporting legends and two international superstars. Along with five new figures, Madame Tussauds Sydney's Sports Zone will feature all new interactive experiences to help bring Australia's iconic sporting moments alive, including stadium screens, fun props and much more.