Diversity is at the heart of Madame Tussauds Sydney!
Tuesday 9th April 2019
diversity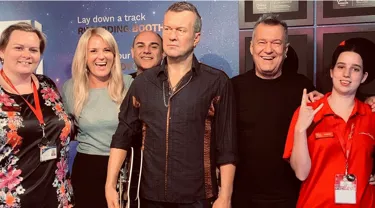 Equality, diversity and equal opportunities are core values for the Madame Tussauds Sydney team and parent company, Merlin Entertainments.
These values were demonstrated on the recent episode of Employable Me which aired on the ABC. Employable Me follows people with neuro diverse conditions such as autism and Tourette syndrome as they search for meaningful employment.
In this episode, viewers followed the uplifting, warm and insightful journey of fun loving and energetic Kathleen as she applied for and successfully landed a job here at Madame Tussauds Sydney. 
Mark Connolly, General Manager at Madame Tussauds Sydney, said: "I am so proud to work for Merlin Entertainments - where diversity and equality is embraced and celebrated. We were privileged to have Kathleen join our team during the summer. She is an amazing, inspiring young woman; the team loved her energy and passion and her pop culture knowledge is second to none. We wish Kathleen all the all the best as she continues her employment journey."
"Employable Me is a powerful series that uncovers people's hidden skills and matches job seekers with roles that harness their strengths. It also reminds us we all need to look beyond first impressions as there's often more than meets the eye."
Jimmy Barnes, Australia-Scottish rock singer and songwriter also made a guest appearance, standing in for his wax double and surprising Kathleen while at work. After Kathleen sang Cold Chisel's hit song 'Cheap Wine' alongside Jimmy Barnes himself, he commented: "You know my songs better than me!"