International Kissing Day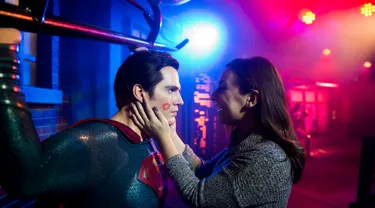 To celebrate International Kissing Day we are revealing our most kissed figures!
While guests think they are stealing a sneaky kiss without anyone realising, staff are very aware of the trend! Operations and Studios Manager, Dale Edginton revealed that "When completing our routine morning checks and touch-ups, we learn very quickly who's popular with our guests and who might be attracting more attention than others. The lipstick marks are a dead giveaway!"
Our Aussies have a strong position in the overall top five, with Chris Hemsworth and Miranda Kerr coming in at second and third place. Some new front runners are the gorgeous Priyanka Chopra Jonas, and Bollywood heartthrob Shah Rukh Khan who have been massive hits with both Indian and international guests since their recent arrival!
Our studios team have been preparing for this day and have their brushes and paint kits at the ready to refresh our most popular stars throughout the day to ensure the best kissing experience for all our guests.  
The results are in! Henry Cavill as Superman comes in at number one for both the most kissed male figure and the most kissed figure overall. The following four positions are taken by Chris Hemsworth, Miranda Kerr, Priyanka Chopra Jonas and Shah Rukh Khan. The stunning Miranda Kerr also takes the top position for the most kissed female, with Angelina Jolie and Marilyn Monroe close behind.  
Don't miss your chance to kiss your favourite celeb! Book your tickets now