International Women's Day Sydney: Fun Activities To Celebrate Women
Thursday 5th March 2020
women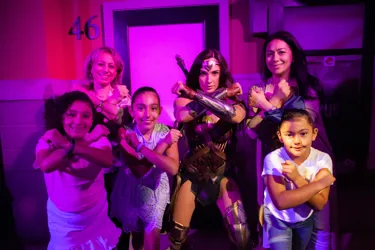 Need ideas for International Women's Day? Meet some iconic women and celebrate the sisterhood at Madame Tussauds Sydney.
Captain Marvel
At Madame Tussauds Sydney, you'll meet inspiring likenesses; from superheroes to political power players. The newest arrival is simply marvellous. Captain Marvel (based on Brie Larson) is powerful, clever and a superhero for our times. Thanks to the awesome new Augmented Reality experience, you can get involved in the action. Body-tracking sensors monitor your movements, putting you into the scene via a giant screen. You'll even see the Captain Marvel insignia appear on your chest. Bask in the glow and make some powerful moves of your own.
Wonder Woman
The original inspiration for generations of girls, Wonder Woman, remains an important icon. Don't we all wish we could wield the 'lasso of truth' and make whoever it captures confess all? Imagine the secrets you'd learn – from your colleagues or your kids! If you grew up fantasising about superhero powers, visit Wonder Woman and relive your childhood dreams.
The Royal Family
The success of the Netflix series, 'The Crown,' has lifted the velvet curtain, showing us what happens behind palace walls. Yes, it's embellished with a heavy sprinkling of fiction, but one thing remains true; Queen Liz is a powerful woman. One thing's for sure – HRH has one of the hardest jobs in the world.
Rebel Wilson
Who can forget Rebel's speech at the BAFTA Awards? With an intelligent and hilarious anecdote, she jabbed the ribs of the industry for not supporting more female film directors. Her skewering wit and trademark deadpan delivery have elevated her to legendary status. Rebel is fierce, funny and fabulous.
Julia Gillard
Australia's first female Prime Minister blazed a trail through parliament, showing Australian women how to shine in the country's top job. Whatever your politics, there's no denying she made an impact during her time in office. Many young female leaders look to Julia for guidance. Hopefully, we won't need to wait long for another female PM.
Cathy Freeman
Cathy's iconic 100m win in the 2000 Olympics cemented her status as an Australian sports icon. Her legendary win was preceded by a long list of firsts, including first Aboriginal medalist at the 1996 Olympic Games in Atlanta. Fast, fantastic and future-focused: from a young age, Cathy knew she wanted to win gold.
Kylie Minogue
Dismissed as a pop starlet, Kylie fought hard to be recognised for her prodigious talent. She's a superstar with an enviously long career in an industry known for disposable heroes. Always true to herself, Kylie broke barriers, progressed as an artist and continues to perform to sell-out crowds.
Hungry for More?
Why not finish with a meal at a woman-led restaurant? In Barangaroo, not far from Madame Tussauds Sydney, is love.fish, led by Michelle Grand-Milkovic. Seafood is the focus; sustainably sourced and beautifully served. Zushi is another waterside favourite, fronted by Serena Ang. If you're gluten-free, you're in luck! 90% of the Japanese menu is GF. A short stroll across the Pyrmont Bridge to The Star, you'll find Momofuku Seiobo, led by Kylie Javier Ashton. Her career is impressive (Tetsuya's, Bentley Restaurant and Bar, Restaurant Manager of the Year 2017), and now she fronts one of only three Australian restaurants to have earned three hats from The Sydney Morning Herald Good Food Guide. The flavours are Caribbean inspired, and the tasting is serious. Book well in advance, and be prepared to invest money and time.
Whatever you decide to do, enjoy celebrating International Women's Day in Sydney.