Kareena Kapoor Khan joins Madame Tussauds Sydney!
Wednesday 24th June 2020
bollywood, kareena kapoor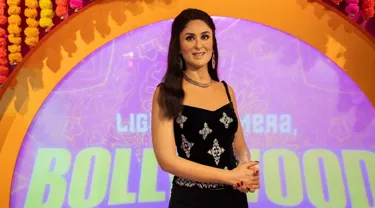 It's been a big year for Kareena Kapoor Khan, having recently joined Instagram, and this week, her wax figure joined the Lights, Camera, Bollywood experience at Madame Tussauds Sydney!
Richard Dilly, General Manager at Madame Tussauds Sydney, said: "We're excited to announce that Kareena Kapoor Khan has joined the Madame Tussauds family. Since opening our Bollywood experience last year, we've been inundated with requests for the next Bollywood superstar to join the family and we're delighted to share the news that Kareena is now here!"
"Kareena's figure will only be at Madame Tussauds Sydney for the next six months though, so be sure visit her while you can," added Mr Dilly.
Kareena now stands alongside the 'King of Bollywood', Shah Rukh Khan as they invite guests backstage on a Bollywood movie production set and master a Bollywood dance routine in the rehearsal studio.
Inspired by her look in her hit song, Mauja Mauja which featured in her blockbuster movie Jab We Met, Kareena's figure was first unveiled in Blackpool. Upon meeting herself in wax form, Kareena commented, "It's an honour and a privilege for me to have my own wax figure at Madame Tussauds. This is a moment of pride for Indian cinema".
She added: "The figure looks incredible and is so life-like, I did a double take when I saw it myself. They have done a superb job of capturing my essence".
Come down to Madame Tussauds Sydney today and snap a pic with the Queen of Bollywood!