Move over Instagram Boyfriends, 'The Selfie Butler' is here
Thursday 1st March 2018
selfie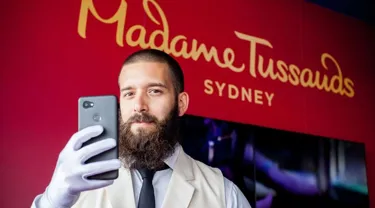 Give your self-ie a break with Madame Tussauds Sydney's personal photo service
Hands up if the worst part of going out with friends, is the struggle to get a group photo. You try to give it a shot, but someone always has to be the photographer. The selfie stick? Let's be real, that pole ruins the shot. A random? Well, they don't really have the time, nor the care, to capture your perfect angle. If only you had your own personal photographer to follow you around…
Introducing, The Selfie Butler. Today, Madame Tussauds Sydney has launched a personal photo service to relieve the 'Instagram Boyfriends' of Sydney (plus your arm!), and provide guests with the opportunity to hire a 'Selfie Butler' to capture all their images during their visit to the iconic Darling Harbour attraction.
 Available from the 5th to the 18th of March, the exclusive service is available at Madame Tussauds Sydney and includes one hour with the service of a personal photographer to capture all your Insta-worthy pics on your device, for individuals or groups of up to five paying guests.
Meet-and-greet the Royal family, walk the catwalk and strike a pose with Megan Gale, and plant a kiss on the dreamy Liam Hemsworth; let the Selfie Butler capture the moment with all your friends without you having to even lift a finger (or leave anyone out!)
 The Selfie Butler Service (priced at $55) includes:
Entry ticket for one (1) person into Madame Tussauds Sydney (usually $42 per adult)
One (1) hour session with an Selfie Butler (max five people per session - all additional guests must have a valid entry ticket)
Unlimited photos on your own device
Available daily from 5th - 18th March, with sessions between:
11am - 12pm
2pm – 3pm
4pm – 5 pm
There's limited butlers available, so reserve your session before they're all snapped up!