Must-see Museums and Attractions in Sydney
Wednesday 20th March 2019
attractions, sydney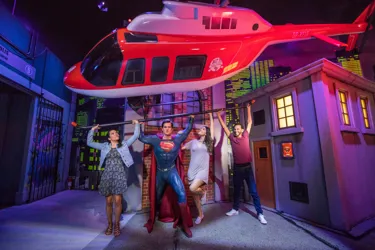 Sydney has more to offer than beautiful beaches and a harbour. As well as all things sun, surf and sand, it also boasts some outstanding museums and interactive attractions which are an essential stop on any itinerary, for both visitors and locals alike. Static and staid museums are so last century; now it's all about interactive experience, VR, AR and tech! Here are some of the savvy standouts.
This pop-up immersive cinema series allows you to experience the world of your favourite movies. Kicking off with the cult classic, Dirty Dancing, visitors are surrounded by a recreation of Kellerman's Mountain House circa 1963. Walk around the hotel estate, take part in art, craft and sports pursuits and mix and mingle at the diner. As the sun goes down, watch the film on the big screen while it's revealed around you.
STAR WARS™ Identities: The Exhibition features 200 original Star Wars objects for some all-ages fun. In this immersive experience, you can find out who you'd be if you were a Star Wars™ character. Through multiple interactive stations, unpack your identity and the forces that define you. Then at the end of the exhibition, come face to face with yourself as a Star Wars hero. On top of this, you can check out costumes, props, models and artworks from the series; BB-8, R2-D2, the Millennium Falcon, Yoda and Darth Vader's suit to name a few.
An attraction like no other, this is no museum; it's like stepping onto the red carpet and into an alive fame experience! Put yourself front-and-centre on the cover of Cosmopolitan Magazine and get an A-list digital makeover before coming to the rescue by helping Superman lift a helicopter. If that's not enough, take the podium with Adele as she presents you with an MTV award or record an original song and star in the film clip. With a slew of selfie opportunities, earn big bragging rights as you sidle up to the rich and famous.
After dark, the Sydney Observatory comes into its own. Its planetarium and special exhibitions have a lot to excite even the most casual space-junkie during the day, but with three telescopes (including Australia's oldest), the Observatory is a great nighttime option for both space lovers and stargazers. Look up for interactive and real-time learning, as you search for your favourite constellations. Book in a tour, and get lost in the stars that once guided explorers across the southern seas.
On the grounds of Australia's first Government House, the Museum of Sydney is a good starting point for discovering the city. Its permanent exhibitions trace the history of the city, from its long Aboriginal tradition to how the city functions in modern times. Lookout for the engaging visiting exhibitions which have covered everything from sand castles to street photography.
While not technically a Museum, wandering through The Rocks is living history at its best. Take in Sydney's past and discover some of the city's oldest surviving buildings and public places from the eighteenth, nineteenth and early twentieth centuries. As you explore the streets and historic laneways, stumble on stories from days gone by on a free self-guided walking tour.
This is a city with no shortage of history and culture to unpack and explore. Sydney has a museum or attraction for every interest, whether you're an enthusiast, visitor or local.