Oh MY, MY, MY…Troye Sivan is joining Madame Tussauds Sydney!
Thursday 27th February 2020
music, troye sivan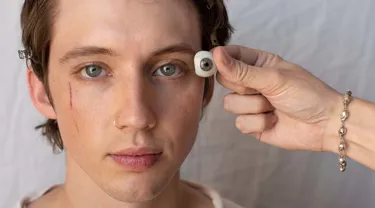 His music has reached all corners of the globe with over 8.5 Billion streams, he has starred in movies, shot covers for international fashion magazines, fronted campaigns for major global designers and today it has been announced that Troye Sivan will be honoured with a wax figure at Madame Tussauds Sydney!         
Commenting on the news, 24 year-old Australian singer, songwriter and actor, Troye Sivan said, "I am incredibly honoured to be receiving my very own wax figure at Madame Tussauds Sydney! To be joining the family alongside so many amazing celebrities and so many of my idols is an absolute dream come true for me and I still can't quite believe this is happening.
"I had so much fun at the sitting, the team from Madame Tussauds took over 100 measurements, there's even a dedicated colourist to match skin, eye and hair tones! I can't wait to see the end result, which is due to be revealed mid this year!" added Troye.
Troye's wax figure will take to the stage in the iconic MTV Music room at Madame Tussauds Sydney alongside international superstars including Taylor Swift, Katy Perry and Adele and fellow Australian celebrities including Kylie Minogue and Jimmy Barnes.
Mark Connolly, General Manager at Madame Tussauds Sydney said, "We're thrilled to be adding Troye Sivan's figure to our family. We asked our guests which celebrity they would most like to see in Madame Tussauds Sydney and the overwhelming response was Troye. It's no surprise why, he's incredibly talented and engaged with a huge and loyal fan base not just in Australia but also around the world. We can't wait to see how the guests react when they see the figure!"
Troye's first ever wax figure is due to be unveiled mid this year and fans are recommended to follow our Facebook and Instagram page!