Rebel Wilson's wax double 'crushes it' at outdoor gym in support of the Aussie star's year of health
Thursday 25th June 2020
rebel wilson, health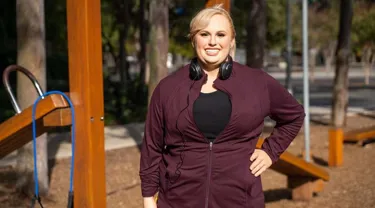 In true Aussie style, Rebel Wilson's wax figure has hit the outdoor gym for a workout in support of the star's 2020 self-proclaimed year of health.
Re-styled for the session into appropriate active wear, Rebel still looked every bit as stunning as she does in her usual A-list frock and hardly worked up a sweat as she tackled the equipment at the Darling Harbour gym.
The Sydney born beauty is currently on a weight loss journey and has already successfully shed some kilos by working with a personal trainer and dedicating herself to a variety of exercises, all in the name of health.
Richard Dilly, Madame Tussauds Sydney General Manager said: "Madame Tussauds Sydney wants to do everything we can to support Rebel in her year of health and that means ensuring that her wax double does everything she can to support Rebel as well!"
"We are aiming to maintain our support for Rebel by keeping her dressed in active wear for the remainder of the year – we love Rebel and she is such a popular figure at our attraction, and there is no doubt that guests will love her new look too".