Rock a mullet for free entry!
Tuesday 15th December 2020
troye sivan, Sydney Live, mtv music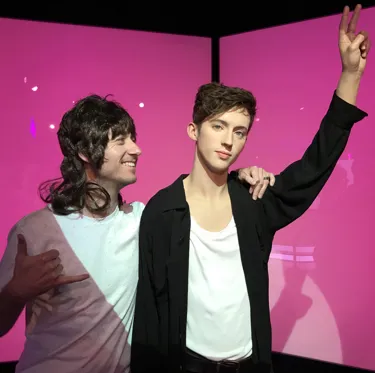 If your locks are cropped up front and hanging long around the back like Troye Sivan (Mellet), then great news – you're getting free entry into Madame Tussauds Sydney!
We are embracing the Australian prince of pop's new retro hairstyle by opening our doors wide open for mullet heads this Thursday and Friday (Dec 17 & 18).
The huge offer comes days after we unveiled Troye Sivan's first ever wax figure during an exclusive launch with his biggest local fans. Although thoroughly impressed with the figure's uncanny likeness to Troye, fans and media kindly noted that the figure was missing Troye's new viral hairstyle – a mullet.
"Troye Sivan's wax figure is designed to replicate two fan favourite Troye Sivan looks – that of the My, My, My film clip and his 2019 Golden Globe appearance," said Richard Dilly, Madame Tussauds Sydney General Manager. "While we can't upgrade his look, just yet, we can celebrate and embrace the singer's new style by giving his forelock doubles free entry this Thursday and Friday."
How to redeem the offer
Simply email a photo of your current mullet and your preferred entry date (17 or 18 December 2020) to

mediaenquiriesnsw@merlinentertainments.com.au

.

The first 50 people who send across their photo will receive a free pass to Madame Tussauds Sydney where they can rock the returning hair trend alongside the current king of the mullet, Troye Sivan. All mullets will be inspected for authenticity upon entry.  

Make sure to #TussaudsSydney in your posts for us to see!